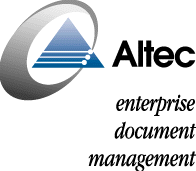 (PRWEB) October 11, 2012
Altec Products, Inc., a leader in enterprise document management and workflow solutions, announced today their participation at the NBWA's 75th Annual Convention at the Manchester Grand Hyatt in San Diego, California from October 14 – 17, 2012. This annual conference represents 85% of the beer wholesaling industry with a membership of over 1,700 beer distributors. The NBWA's Convention is designed to provide valuable educational programs and important networking opportunities for the beer industry. Educational programs offered during the convention feature speakers and seminars on a number of topics of importance to beer distributors.
Altec has successfully helped companies in the beer distributing idustry go paperless. They are experts at helping departments identify opportunities for improved efficiencies. doc-link helps companies eliminate filing, storage, routing and form costs. It provides the ability to electronically capture documents and automate business processes throughout the mid-level enterprise within any department and any process.
Michigan's largest beer distributor, West Side Beer, worked with their Sage partner Blytheco to find the best document management solution to meet their needs. Kurt Gail, VP of Finance at West Side Beer says that his team's top criteria for a document management system included the ability to collect all invoices in a single repository and then disseminate them electronically to the approvers. "doc-link fit our needs perfectly," says Gail, "and allowed us to scan and route the invoices just like we wanted to, instead of trying to manage the process manually across multiple locations."
Stephen Blythe, Blytheco's founder and CEO, says West Side Beer is just one of many companies that are turning to document management systems to better manage their accounting functions. "Our clients continue to automate their business processes and streamline the operational workflows," says Blythe. "Document management is critical to achieving these goals."
Altec will demonstrate their document management solution at the Product Demonstration Showcase, on Monday, October 15. They can be found at booth 417 from noon to 4:30 pm along with their long term Sage Partner, Blytheco. The team will demonstrate how electronic document management interfaces with back office financial business systems to bring control to existing workflow and effectively eliminate the need to file documents. Altec is also introducing the newly released Smart Form Toolkit that provides the ability to configure Smart Forms for processing or creating new documents.
The Altec and Blytheco Educational Session is Monday, October 15 at 7:00 am – 9:00 am in the Randle Ballroom B. April Hansen, Director of Customer and Partner Relationships for Blytheco will present a session titled "Social Media 102: The Next Step" and will showcase best practices for beer distributors and brewers to gain visibility with social media. In addition, Richard Simmons, Director of Sales for Altec will share how beer distributors can work leaner, faster and more effectively with document management.
About Altec
Altec is a leading provider of Integrated Document Management (IDM) solutions to mid-market companies. For more than 25 years, Altec has provided a wide range of accounting-centric paper to paperless solutions including its flagship product, doc-link™, which enables companies to capture, archive, workflow and route structured and unstructured documents to customers, employees and vendors. Altec's comprehensive solutions include IDM, output management, MICR check disbursement and paper documents that serve more than 13,000 customers worldwide. Altec enjoys strong, collaborative partnerships with ERP solution providers like Sage and Microsoft Dynamics to provide the most comprehensive, integrated enterprise document management solution. Altec delivers its IDM solutions through a global network of authorized partners in more than 60 countries throughout the Americas, EMEA and Asia Pacific. For more information, visit Altec at the company website at http://www.altec-inc.com. Follow them on Twitter.com/doclinkbyAltec or call April Blankenship at 1-800-997-9921.
###