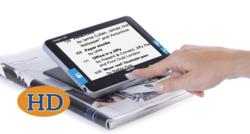 "The Compact 7 HD fills the gap for this solution with a larger field of view, continuous magnification from two up to 24 times and customizable settings. It's unlike anything else on the market."
Vista, CA (PRWEB) October 10, 2012
Optelec U.S. Inc., a world leader in innovative and life-changing assistive technology for the blind and visually impaired, today announced the launch of the much-anticipated Optelec Compact 7 HD electronic video magnifier. Designed for users with low vision, the Compact 7 HD offers a truly portable, large seven-inch widescreen with high definition image quality, extreme simplicity and an attractive style.
The Compact 7 HD makes the every day struggle of reading the newspaper or viewing photos easier for those living with vision loss due to retinal eye diseases such as macular degeneration, glaucoma, cataracts and diabetic retinopathy.
"We speak with thousands of users every month and we continuously hear that those who need a higher magnification enjoy portability but also require a larger screen for every day reading," said Ivar Illing, Optelec International Product Manager. "The Compact 7 HD fills the gap for this solution with a larger field of view, continuous magnification from two up to 24 times and customizable settings. It's unlike anything else on the market."
Weighing less than 1.4 lbs, the Compact 7 HD is easy to take anywhere. For an effortless user experience, the Compact 7 HD features clearly visible and simple to operate controls with powerful functionality.
"Our customers are searching for ways to cope with their low vision and Optelec's products can have a profound impact on their lives by optimizing the remaining vision," said President of Optelec U.S. Inc., Stephan Terwolbeck. "The new Compact 7 HD provides high image quality and has a simple design that won't leave our users frustrated and discouraged."
The 8-megapixel high definition and auto-focus camera keeps the display text, photos and objects sharp and clear. With only "one-touch" to open, the Compact 7 HD tilts to a raised position for a comfortable and ergonomic viewing angle. The Compact 7 HD also incorporates dual-viewing modes. First, while opened it moves smoothly over reading materials. Secondly, the design allows for distance viewing up to three feet away—perfect for viewing a wall temperature display, daily calendar and more.
Key Features of the Optelec Compact 7 HD:
•Continuous magnification of 2X - 24X
•7-inch high definition full color TFT widescreen display
•Immediate reading with "one-touch" to open and power on
•4-hour continuous use rechargeable battery; large icon battery status
•Patented indirect LED lighting system for even, glare-free illumination
•8-megapixel high definition and auto-focus camera
•Large icon settings and information menu to save user settings
•Adjustable brightness with 19 high contrast and photo viewing modes
•Two reading positions
•Snapshot function with audio indication sounds
•Carrying case, wrist strap and a microfiber screen cleaning cloth
•Portable and lightweight at only 1.4lbs (22.6 oz.)
•Dimensions: 7.5 x 5.1 x 1.1 inches
•2-year standard warranty
An estimated 21.5 million adult Americans have reported they either "have trouble" seeing, even when wearing glasses or contact lenses, or that they are blind or unable to see at all, according to the 2012 National Health Interview Survey. With the right tools, assistive technology like the Compact 7 HD can improve their quality of life, independence and mobility.
The Optelec Compact 7 HD is now available through the Authorized Optelec Dealer Network. For more information about Optelec and our range of simple and effective low vision solutions, contact us at 800.826.4200 or visit http://www.Optelec.com or http://www.ShopLowVision.com. LIKE us on Facebook at Facebook.com/Optelec, follow us on Twitter with @Optelec and watch our demo videos at YouTube.com/OptelecUS.
About Optelec
Based in the Netherlands, Belgium, Germany, United Kingdom, Canada and the United States, Optelec is the leading distributor, designer and manufacturer of life-changing assistive technologies for people who are visually impaired and dyslexic. Founded in 1975, Optelec continues to be the global front-runner with a multi-tier distribution in more than 60 counties. The Optelec Compact 7 HD is available through the Authorized Optelec Dealer U.S. Distribution Network. Call 800.826.4200 or visit http://www.Optelec.com or http://www.ShopLowVision.com for more information on products, availability or to schedule a no obligation demonstration.
Media Contact:
Courtney Berg, Marketing Communications Manager, Optelec U.S.
cberg at optelec dot com
Tel: 800.826.4200
Cell: 760.650.5502