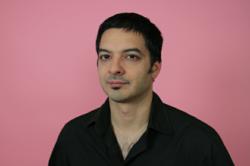 "Men who really want to learn how to talk to girls need to practice active listening," Xuma says. "There are tried-and-true tips to being a good listener, including repeating back what a person is saying to convey understanding."
San Mateo, CA (PRWEB) October 18, 2012
Learning how to talk to girls has less to do with talking and more to do with listening, says Dating Expert Carlos Xuma in his new report.
"Few people realize that the best way to be a scintillating conversationalist is to be a good listener," Xuma says in his report. "Studies show that people who are skilled at listening are perceived by others to be fascinating conversationalists."
Throughout history, people who have been viewed as being the most provocative conversationalists were actually at heart, fantastic listeners, Xuma explains.
His new report analyzes a few techniques that people use to make talking to other people easy and natural, he says. He looks at people throughout history who have been considered experts in this area.
For instance, when Jackie Kennedy spoke to someone, she made him or her feel instantly comfortable and is if they were the center of her universe.
"People who had conversations with the first lady said that her attention was so fully focused on them and that what they were saying that they left the conversation convinced she was a skilled conversationalist," Xuma says.
The good news, says Xuma, is that men everywhere can use this technique, and others detailed in his new report on how to talk to girls.
"Men who really want to learn the fine art of conversation need to practice active listening," Xuma says. "There are tried-and-true tips to being a good listener, including repeating back what a person is saying to convey understanding."
Another tip that Xuma includes in his report on talking to women is how men can prepare for conversation beforehand. For instance, men can think of things to talk about before they go out to a party or pick a girl up for a date, Xuma says.
"Many famous celebrities have confessed to spending time before they attend an event or a party brainstorming topics to bring up in conversation," Xuma says. "Some of them even admit to having practice conversations with themselves in the shower. There is nothing wrong with that. Practice makes perfect. These are people who are known throughout history as being good conversationalists."
Techniques like these and more are explained even further in Xuma's new report.
Carlos Xuma has spent the past ten years teaching hundreds of men how to be successful through his website at http://www.datingdynamics.com. He is also the author of The Bad Boy Formula, Secrets of the Alpha Male, the Girlfriend Training Program, and numerous other books and articles. Along with his books and articles, Xuma has been recognized for the past decade for his work sharing dating advice for guys, tips on pick up artist techniques, alpha male behavior, and how to attract women who has appeared on ABC and CBS television, as well as Playboy radio.
For more information, see Carlos Xuma's website at http://www.carlosxuma.com .