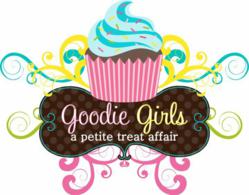 (PRWEB) October 12, 2012
Celebrity Chef Annette Starbuck is hosting her one year anniversary come walk the pink carpet for the BIGGEST Cupcake Party of the year.
Goodie Girls is turning one.
When: November 10, 2012 from 5pm-8pm
...
Where: Goodie Girls Glendale Storefront Location
Phone: 818-545-0434
Email: party(at)thegoodiegirls(dot)com
Gift Bags to the first 50 people. Amazing Raffle prizes all benefitting LOVE IS LOUDER! Plus, hang out with our lovely Sweet team and the girls from Cupcake Wars.
We will have free food, Live DJ, drinks, cupcake samplings, pink carpet, raffles to support Love is Louder, and so much more.
If you are media or talent interested in covering/walking the Pink Carpet and event, please email us at party(at)thegoodiegirls(dot)com.
Sponsors included:
Izze, Sugarbaby Aprons, Plush Salon, Pirates Booty, Pierre Gardens, Cupcake Cuddlers, Crush Crush Couture, Jean Marie Auboine Chocolates, Oliovera, Crow Steals Fire, Mitsymoto Designs, kokocandles, Sweet Violet Designs, Magic Moments Mom, Fruition, and more.
For Sponsor Vendors, Press, and PR Agents please email info(at)thegoodiegirls(dot)com for more info.
For more info you can check out our website party tab at:
http://www.thegoodiegirls.com/gg-1-year-party.html