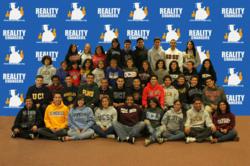 "Reality Changers is absolutely a model, not a model for the city, not for the state, for the country" , states Arne Duncan, U.S. Secretary of Education.
San Diego, CA (PRWEB) October 09, 2012
After working with gang members for five years, Christopher felt that it was just not right that most inner-city teenagers today know more people who have been shot or killed in the street than people who are on the road to college. As a response, Reality Changers began in May 2001 with four 8th grade students at the Hispanic Presbyterian Church near downtown San Diego with the hope of building first generation college students.
Starting with just $300 to its name, Reality Changers has given more scholarship awards to college-bound students than any other single organization in San Diego County since 2006. To date, over $25 million in scholarships has been gained by Reality Changers graduates to colleges throughout the United States.
"If we truly want to cleanse the generations of gang-related bloodshed spilled onto our sidewalks, then we must flood our inner-city streets with options and opportunities so that urban youth can become caught up in the rising current of high expectations, newfound leadership, and previously unimaginable realities," Christopher Yanov.
Reality Changers is a San Diego based non-profit organization located at 3910 University Avenue, Suite 300-RC, San Diego, 92105 in City Heights. For more information regarding Reality Changers, visit their website at http://www.RealityChangers.org.