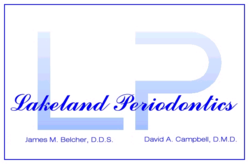 Lakeland, FL (PRWEB) October 11, 2012
Lakeland Periodontics doesn't want patients to suffer the problems that come with advanced gum disease. It is far easier to treat periodontal disease when it has not been left to thrive unchecked. Patients suffering from advanced periodontal disease often have problems with receding gums, lost teeth, and there is a high correlation with serious health issues including heart attack, stroke, upper respiratory infection, premature birth, among others. This is why patients who have received gum disease treatment are recommended for periodontal maintenance therapy.
Dr. James Belcher and Dr. David Campbell of Lakeland Periodontics perform a number of gum disease treatment procedures to assist patients who struggle with gum disease. LANAP treatments, gum grafts, and even dental implants are treatments that may be required when a person suffers from gum disease. Even patients who work hard to brush their teeth at least twice a day and floss properly cannot completely remove the plaque that forms calculus on the teeth. This is why it is so important for patients to be on a regular schedule for periodontal maintenance.
The average healthy dental patient should have a professional cleaning and checkup every six months. When a person has received gum disease treatment, the recommended schedule is four times per year, rotating between your periodontist and your general dental office. Because a patient can have a re-occurrence of the symptoms after treatment, during the visit to your hygienist, she/he will do a periodontal maintenance cleaning and will check for periodontal issues that may have cropped up since the last visit.
By sticking to the periodontal maintenance schedule, a patient has a better chance of avoiding additional gum disease treatment, and the problems and costs that are associated with it. The doctors at Lakeland Periodontics are dedicated to providing adequate information and other services to their patients so that they will be less likely to suffer from periodontal disease. To learn more about how gum disease develops, treatments and periodontal maintenance, go to http://www.lakelandgumsurgery.com.
Lakeland Periodontics is a periodontal practice offering patients personalized dental care in implant dentistry for Lakeland, Florida. Dr. James Belcher and Dr. David Campbell are both certified periodontists with years of training and experience in dentistry. Their practice is part of one percent of dental professionals providing the most recent FDA cleared laser procedure for gum disease and periodontal treatment. Lakeland Periodontics is a practice limited to Periodontics and dental implants. To learn more about Lakeland Periodontics, their dental services and dental implant options visit their website at http://www.lakelandgumsurgery.com and call (863) 594-1351.