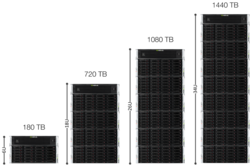 It's an out-of-the-box turnkey solution for the SMB.
Seattle, WA (PRWEB) October 11, 2012
Enterprise online storage software and hardware provider, Online-Storage.com has officially rebranded to SIO.CO. Intending to improve brand memorability and its internet presence, the company has moved from the domain Online-Storage.com to the more memorable SIO.CO. The company's offerings, vision and growth prospects remain intact, but the business intends to run a much more strategic web presence as witnessed by the latest adjustment.
"We feel that having a five character domain will be much easier for branding, top-of-mind recognition and overall search engine effectiveness," says online storage sales engineer Stein Chu. "It's a strategic move which we feel is congruent with a more long-term vision for the company," says Chu. "It's much easier to direct some of our most tech-savvy customers to a short domain, than having them attempt to remember our previous web address."
SIO.CO's software is a leap forward in cloud infrastructure and design. It seeks to eliminate many of the headaches involved in current cloud and magnetic tape backup solutions. The software allows for intense media rendering, online-based video encoding, big data backup solutions, thin provisioning and full scalability of pooled resources. Most importantly, it's built with the generalist in mind, meaning most lower-level IT personnel are able to operate the system without extensive lower-level understanding and intense training. "It's an out-of-the-box turnkey solution for the SMB," says Chu.
In addition, the company's software is able to operate on almost any commodity hardware, making the entry price point a bit more palpable for small business owners who may already have invested in server hardware. The software supports iSCSI for 1 and 10GbE for Linux, Windows XP,7, 2003 Server, 2008 Server, Hyper-V, VMWare ESX/ESXi, XenServer and Mac OSX. The software even supports server virtualization further expanding the use and maximization of limited resources.
Finally, cloud and hosted versions are also available, allowing even smaller operations to expand and pay on an as-needed basis without needing to invest in expensive hardware and potentially limited and eventually out-of-date software. "We've tried to think of just about every cloud computing need which may arise so the features match the needs our customers have and will continue to demand," says Chu. "We've created a robust solution for a growing market."
For more information, please visit http://sio.co/