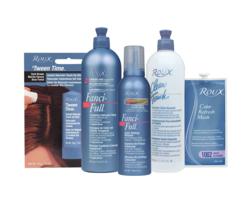 During October, receive $2.00 off any new Roux Color Refresh Mask, available in eight vibrant shades, at Sally Beauty stores nationwide.
Jacksonville, FL (PRWEB) October 11, 2012
Roux, the iconic beauty brand beloved by hair stylists and consumers alike, celebrates 80 years of beautifying women with the launch of Color Refresh Mask in September at Sally Beauty Supply stores and on sallybeauty.com.
This weekly treat for color treated hair revives color, provides intense conditioning and adds radiant shine in just three minutes. It's available in eight vibrant shades ranging from white platinum to brown. Results last up to five shampoos, depending on the hair's condition.
Color Refresh Mask deposits direct dyes to refresh hair color. The gentle formula features ionic pigments that adhere to the hair, so there's no need for ammonia. Alpha hydroxy fruit acids provide intense moisture, leaving hair touchably soft with brilliant shine and a smooth feel. Suggested retail price is just $4.99 for a 30-ml/1-fluid-ounce single application packette. For a limited time in October, receive $2 off Roux Color Refresh Mask at any Sally Beauty store.
In addition to Color Refresh Mask, Roux's portfolio includes these category leaders:

Roux Fanci-Full™ Rinse Temporary Haircolor—America's best-selling temporary hair color—lets you make a temporary color change or refresh faded color to keep hair color looking its best between color treatments. Available in 16 beautiful shades, it blends away gray for an instant color boost, evens tones and removes brassiness. Built-in styling lotion and conditioners add manageability, control and shine. SRP is $6.59 for 15.2 ounces.
Roux Fanci-Full™ Color Styling Mousse lets you color and style in one easy step. Use it to blend away gray or experiment with different shades. The creamy, whipped foam imparts rich, even temporary color that shampoos out, as it provides extra volume and fullness to hair. Ready to use, it requires no activator, peroxide or mixing. It's available in 13 colors. SRP is $9.99 for 6 ounces.
'Tween Time™, a color crayon that provides temporary color coverage, is perfect for concealing small areas of gray or covering regrowth at the scalp. Men love it, too, for concealing the first signs of gray at their roots, sideburns and hairline. It's available in light, medium or dark brown, auburn and black. SRP is $6.49.
Clean Touch® hair color stain remover easily removes stains from skin and scalp. It also removes excess color from porous ends that grab too much tint. It even helps remove hair color stains from clothing. SRP is $7.49 for 11.8 ounces.
The new Roux Color Refresh Mask, and all Roux products, are available at Sally Beauty stores. For a location near you or to buy online, visit sallybeauty.com.
Beautifying women for 80 years with easy-to-use, results-oriented hair color and hare care products at an affordable price, Roux offers a range of products that are favorites of professional hair stylists and their clients alike. The collection includes Fanci-Full™ Rinse (the No. 1 temporary hair color in the United States), Fanci-Full™ Mousse temporary color, 'Tween Time™ color retouch crayon, Clean Touch® color remover and new Color Refresh Mask. Learn about all of Roux's products and connect with the brand at RouxBeauty.com and Facebook.com/RouxBeauty.
Celebrate 80 years of beautiful by taking a walk down memory lane with Roux here.