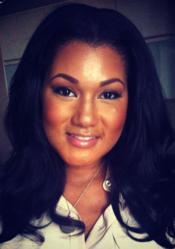 "Now that I've achieved some level of success for my business, I hope I can motivate and influence other New Jersey entrepreneurs to also believe in themselves"- Elaina Watley
Orange, New Jersey (PRWEB) October 10, 2012
Elaina Watley, Passaic County native and CEO of Brand Infinite, will be the keynote speaker at the Start Something Challenge kick-off at the Orange Scholars Academy in Orange, New Jersey on Monday, October 15, 2012. Born into a family of athletes, Watley fell in love with sports at an early age and by high school, decided to become a sports agent.
"When I told people about my dream, they would just laugh at me. There have been bumps along the road, but I persisted and stuck to my plan," said Watley, who successfully launched her sports marketing and PR company in 2009. Her company represents a dozen athletes including New York Giants wide receiver Victor Cruz.
"To this day, I can't believe I did this," said Watley who worked in corporate America prior to starting her business. "When I was younger, I always had this image that you needed to be a millionaire to start your own business and call yourself an entrepreneur. If I had just met someone I could relate to and show me that it's possible to be an entrepreneur at any stage of your life, I probably would've started my business much sooner."
During the Start Something Challenge kick-off event, Watley hopes to inspire other New Jersey entrepreneurs to pursue their dreams.
"I've made a commitment to practice what I preach. I can't tell my clients to give back to their communities if I'm not willing to do it myself," said Watley. "Now that I've achieved some level of success for my business, I hope I can motivate and influence other New Jersey entrepreneurs to also believe in themselves."
"We're very excited to have Elaina as our guest speaker. As a woman of color, mother, and passionate, New Jersey entrepreneur, I know that her story will speak to the participants of the Start Something Challenge," said Alfa Demmellash, the CEO of Rising Tide Capital- a New Jersey nonprofit which is leading the Start Something Challenge.
The Start Something Challenge is a statewide small business pitch competition that gives budding entrepreneurs the chance to gain visibility for their business ideas, valuable feedback and $25,000 in cash prizes. The entrepreneurs who receive the most views for their online video submissions will compete in a series of live-pitching events which will take place in October and November to determine the top winners. The initiative is supported by a number of community partners including Jeff Hoffman, a founding member and former CEO of Priceline.com and JPMorgan Chase. Learn more at http://www.thestartsomethingchallenge.org.
The Challenge is just one initiative of Rising Tide Capital, a Jersey City-based nonprofit organization whose mission is to empower marginalized entrepreneurs with the resources to start and grow small business in underserved communities. Learn more at http://www.RisingTideCapital.org.
In order to hear Elaina speak and meet the participants of The Start Something Challenge, RSVP online by clicking here. The event is free, but seating is limited.