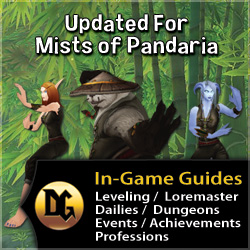 (PRWEB) October 09, 2012
Dugi's Ultimate WoW Guide, the popular World of Warcraft guide, has recently released their Mists of Pandaria update. With this update, Dugi's Leveling Guide now covers all areas in World of Warcraft. Dugi's has long been one of the most popular WoW Rogue leveling guides so this Mists of Pandaria update was highly anticipated.
Mists of Pandaria has reignited players' interest in leveling up. All players will want to level up from level 85 to 90 due to the new level cap. Additionally, new expansions are the perfect time to level up a new character since player's old equipment becomes outdated. Players re-rolling new characters will no doubt enjoy the speed leveling provided by Dugi's Ultimate WoW guide.
Dugi's Ultimate WoW Guide helps Rogues (and all classes) level faster by providing extremely fast quest routes. This is a software-based guide that directs players to NPCs to pick up quests and then shows them the fastest route possible to complete these quests. Not only does it help players complete quests, but shows them where to pick up new quests and when to turn in the quests they have already completed.
Rogues in particular have had success with Dugi's Ultimate WoW guide because Rogues are able to use the difficulty settings to their max advantage. Dugi's can be set to hard mode in order to speed up the leveling rates and since Rogues are particularly good at defeating tough enemies, they are able to use the hardest settings.
Dugi's Ultimate WoW Guide has also recently released updates to their Dailies and Events guide. These updates allow players to max out their reputation quickly by helping them complete their daily quests faster. This is a highly valued feature of Dugi's Guide since there have been so many new factions introduced with the new Mists of Pandaria expansion.