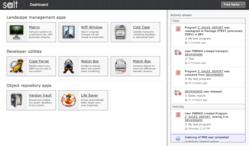 What sets Salt apart is how, as a change intelligence-specific platform, Salt extracts, archives, analyzes and reports on changes across entire SAP solution-based landscapes.
Las Vegas, NV (PRWEB) October 15, 2012
Revelation Software Concepts Pty Ltd (RSC), a pioneer and market leader in simplifying change control for users of SAP® software, today introduced v2.3 of its popular Salt change intelligence software for SAP solutions. The new release provides activity streams directly on the Salt dashboard as it extracts, archives and analyzes change activity across all systems running SAP solutions.
Salt's instant visibility into an organization's custom ABAP™ programming language-based code and data dictionary objects provides users with near-instant, accurate intelligence on the state of their systems. Users can subscribe to regularly emailed snapshots of their system's current state and recent activity, gaining a system-level overview of changes as they move across the landscape. Salt's close change monitoring and up-to-the-minute, accurate system intelligence allow rapid, focused responses to current or potential problems.
Teams maintaining SAP software-based systems report that Salt's fresh and accurate status reporting helps them maintain stable, well managed systems, no matter how complex an organization's infrastructure has become.
"Salt has been available now for two years," noted Dave Gordon, CIO at RSC. "We've seen not only increased interest but the appearance of competition in this area, so we know we're helping in a crucial area for many users of SAP solutions. What sets Salt apart is how, as a change intelligence-specific platform, Salt extracts, archives, analyzes and reports on changes across entire SAP solution-based landscapes. That makes it a powerful way to gain insights into a system's current state and past evolution, with an objective view from outside the system itself."
"Since we expanded the Salt trial to 90 days on up to 20 systems, we have been seeing interest and trial implementations from some very large global brands," noted Rick Porter, Vice President of Business Development, RSC. "We currently are delivering a number of large POCs to some very recognizable companies, in addition to companies already using Salt with SAP solutions."
Salt 2.3's activity streams and change extraction are system intelligence capabilities unique to the Salt Platform. New features included in the 2.3 release are:

Activity streams: Users can now, directly on their Salt dashboard, view a broad
range of activities across the landscape to see what was done and when, including
o New transports
o Scheduled change releases
o New objects, changes or deletions
o System connectivity issues
o System restores, upgrades, etc.
A Salt Online Test Drive System can be accessed from the Salt website and then users can register for the Salt no cost 90-day trial for use on up to 20 systems. More information on RSC, its products and services can be found at http://www.xrsc.com and at SAP TechEd 2012 Las Vegas in booth #506.
About Revelation Software Concepts
Revelation Software Concepts (RSC) specializes in simplifying change control for SAP solutions, developing market-leading technology to reduce the risks and lower the costs of delivering changes into information systems. Since RSC was founded in 1997, some of the world's largest companies have come to rely upon its mature change control solutions. Its deep expertise and responsive support have made RSC the leading change-control specialist for SAP solution-based infrastructures around the globe. RSC is 100% SAP solution-focused. Its products simplify change control for both ABAP and non-ABAP programming language-based technologies, reflecting RSC's commitment to technologically innovative change control solutions that serve current market needs. For more information, visit http://www.xrsc.com.
# # #
Note to Editors— Salt is a registered trademark of Revelation Software Concepts Pty Ltd. SAP, ABAP and all SAP logos are the trademarks or registered trademarks of SAP AG in Germany and in several other countries. All other trademarks or registered trademarks are the property of their respective owners.