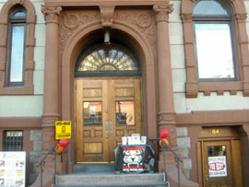 Hoboken, NJ (PRWEB) October 11, 2012
Tiger Schulmann's Mixed Martial Arts Hoboken, NJ has launched their new website and blog to cater to the demanding needs of their adult and youth students. The school's new website offers informative content, class schedules, news, martial arts events, special offers and an easy, one step online signup process. Various incentives for new and existing students are also available.
Tiger Schulmann's Mixed Martial Arts Hoboken's new website can be accessed at http://www.hobokennjmma.com/ and the school's blog is available at http://www.hobokennjmma.com/blog/
Tiger Schulmann's Mixed Martial Arts Hoboken offers world class Martial Arts, fitness and weight loss training facility, right in the center of Hoboken. This facility offers a variety of Men's, Women's and Children's program for all levels – from beginner to professional fighter level.
The school is conveniently located on Washington street in Hoboken, near trains, ferry service, public transportation and PATH. The Hoboken NJ MMA training facility offers adult programs in Kickboxing, Mixed Martial Arts, Jiu-Jitsu, and Muay Thai. Children's programs that are being offered at this location include Kids Martial Arts, Karate, Bully prevention, and ADHD.
Tiger Schulmann's MMA Hoboken takes advantage of its central location by also serving students from nearby cities including Secaucus, Jersey City, North Bergen, Edgewater, Union City, Weehawken, West New York, Kearny, Harrison and Bayonne.
The school's official online blog showcases the latest in all programs, school events, children's parties, fight events, team progress, specials and general news. New Training Videos, event videos, team fight photos, school and facility images are constantly posted on the school's blog and shared across multiple social media channels.
Tiger Schulmann's MMA Hoboken is headed by Sensei Louis Gaudinot.
Sensei Gaudinot, a 3rd Degree Black Belt has been competing professionally in Muay Thai Kickboxing, Grappling, and MMA. In 2010, he captured the Ring of Combat Pro MMA Flyweight Division Championship belt with a submission victory. This win vaulted Louis into a top 10 world ranking for Flyweight division. By 2011, Louis had set sights on fulfilling his dream of becoming a UFC fighter. Louis auditioned and was successfully cast in the UFC's Ultimate Fighter reality show for season 14. Louis' hard work paid off as he is now a 3 fight UFC veteran, and a world renowned mixed martial artist.
Sensei Gaudinot's enthusiasm for martial arts comes through in his teaching as well as his professional accomplishments. For him this is not a job, but a way of life.
Parents looking for Martial Arts Activities for their children in Hoboken will be happy to learn that Tiger Schulmann's MMA Hoboken youth programs are designed to instill confidence and aid children in developing to their fullest potential. Tiger Schulmann's Kids programs help build a solid foundation in life for as many children as possible, by assisting them in achieving a healthy mind and body through martial arts instruction.
To take advantage of current incentives and Free Trail Offers for both Adults and Children, please visit Tiger Schulmann's MMA Hoboken website at http://www.hobokennjmma.com
About Tiger Schulmann's Mixed Martial Arts
Tiger Schulmann's MMA and Kickboxing is an established leader in the Mixed Martial Arts training for adults and a leading advocate of children's self discipline, self defense and anti bullying programs. In business since 1984, Tiger Schulmann's has over 46 locations across, New York, New Jersey, Pennsylvania Connecticut and Florida. The school's Mixed Martial Art system fuses together a combination of techniques, including striking and grappling, in order to provide the most effective means of self-defense in either realistic confrontations or competition. In addition to Martial Arts training, Tiger Schulmann's programs offer weight loss and general fitness activities for men, women and children.