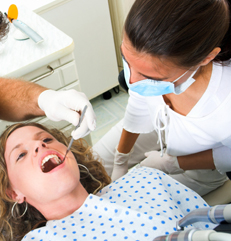 In 2011, the market for dental instruments, hygiene and oral care equipment and disposables in Europe was valued at over €519 million
Vancouver, B.C. (PRWEB) October 10, 2012
Recent market reporting from iData Research, a leading provider in global medical device business intelligence, points to upwards trends in two of Europe's fastest developing dental hygiene markets. "In 2011, the market for dental instruments, hygiene and oral care equipment and disposables in Europe was valued at over €519 million," notes Dr. Kamran Zamanian, CEO of iData Research. Dental products and instruments in Europe are mainly found in private dental practices. Growth is expected to be largely attributed to an increasing number of dentists and dental hygienists being trained as well as a rise in the use of cosmetic dentistry devices.
The European dental laser segment is expected to see continued growth through 2019. European market-leader Biolase has been a key player in the global dental laser market due to high sales of their Waterlase® product line, a platform that they acquired earlier this year. The company has been able to leverage their market leadership in Europe to increase the promotion and sales of their other dental laser lines including the iLase™ and ezlase™.
Innovation in the dental laser industry is constantly leading new product features and lower prices. Biolase, Sirona and KaVo have all developed devices with an emphasis on portability, intuitive interfaces, laser pulse and power configurations to lessen pain during the procedure and reduce recovery time. These product improvements in addition to aggressive sales campaigns, strategic partnerships and the rising prevalence of cosmetic dentistry are expected to drive the overall market for dental lasers.
Another accelerating dental hygiene segment is digital caries detection. Preventative dentistry has grown in popularity within Europe and it is expected that the use of image-based digital caries detection devices for pediatric dentistry will increase rapidly over the next five years. "Dental cavities are one of the most common dental diseases, and the detection of carious lesions is a key factor in the prevention and treatment of cavities." Dr. Zamanian explains.
Specialized light-emitting diode (LED) and laser-based digital caries detection devices have been introduced into the market, which enhance the ability to detect dental decay with greater accuracy and specificity. Digital caries detection devices are segmented into two categories: probing-based caries detection devices and visual-based caries detection devices. A newer generation of caries detection devices was introduced recently that combines fluorescence technology with digital imaging; as of 2011, the two products on the market were the Air Techniques Spectra™ and Acteon's SOPROLIFE™
Additional Information is Available
The information contained in this press release is taken from a detailed and comprehensive report published by iData Research (http://www.idataresearch.net) entitled European Markets for Dental Instruments, Hygiene and Oral Care 2012. The report U.S. Market for Dental Instruments, Hygiene and Oral Care 2011 is also available. For more information and a free synopsis of the above report, please contact our dental specialists at dental(at)idataresearch(dot)net.
iData Research is an international market research and consulting firm focused on providing market intelligence for the medical device, dental and pharmaceutical industries. Watch their short video at http://www.youtube.com/watch?v=pyEwdU_O_M0