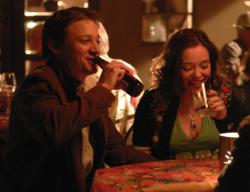 INGENIOUS is about
perseverance and not letting go of your dreams.
(PRWEB) October 10, 2012
Academy Award Nominee Jeremy Renner, known for his tough guy roles in "The Hurt Locker" and "The Town" is getting rave reviews for his first comedy role in twenty years, in the critically acclaimed indie hit INGENIOUS.
Based on a true story, INGENIOUS follows Matt (Dallas Roberts - "The Grey") and a slick salesman (Renner) who hit rock bottom before coming up with a product that becomes a world-wide phenomenon.
"But the movie isn't about the product", said Brian Neufang a producer with Arriba Films. "It's about perseverance and not letting go of your dreams."
INGENIOUS has been in fifteen name festivals around the world and has won Best Picture and Best Director awards. The reviews from the festival have been overwhelmingly positive.
"A terrific yarn, a uniquely American movie. Renner and Roberts are sublimely cast, could become an indie success story."
Lael Lowenstein - VARIETY
"Great script and inspired performances."
Kim Voynar - MUSIC CITY NEWS
The movie has been in limbo for over two years waiting on finishing funds and Renner's increasing popularity. "We've had distribution offers from major distributors", Neufang said, "but mainly for limited LA and NY screenings followed by VOD. We feel this movie deserves a wider distribution. That's why we turned to Kickstarter, to raise money for our theatrical run ."
Kickstarter is an all-or-nothing crowdfunding platform where independent artists can connect with their audience and fans pledge money in return for exclusive rewards to support a project. If a project does not meet its financial goal, no money gets exchanged. There is no stated maximum for Kickstarter projects, so the more money raised, the wider its potential reach in the marketplace.
INGENIOUS has surpassed its funding goal of $48,000 with 3 days to go. Pledges will be accepted until the campaign ends on October 13, 2012. Rewards range from $10 for a digital download to $400 for a combination of perks including two tickets to a Premiere screening in either LA, New York, or Chicago.