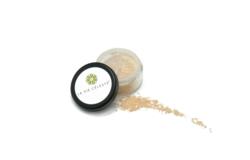 Our entire line of mineral make-up wears like a second skin, or your skin, only better.
NYC, NY (PRWEB) October 11, 2012
La Vie Celeste Skin Care, manufacturers of premium high quality all natural anti aging skin care, is thrilled to announce the launch of their gorgeous all natural mineral make-up line. The line consists of a crème foundation, creamy under-eye brightening concealer, loose mineral powder foundation, finishing powder and a line of luxurious cruelty free vegan make-up brushes.
From its elegant packaging, to its unique choice of shade names such as Gilded Ivory, Vintage Beige and Cafe Noir, the La Vie Celeste make-up collection offers every woman the opportunity to feel and look beautiful, no matter what her age.
"The make-up ties in so beautifully with our skin care line because we incorporated several of our signature ingredients/botanicals into the makeup as well, such as pomegranate, green tea, olive leaf extract, calendula, and pearl powder. Creating a natural make-up line with nourishing and powerful antioxidants was a logical next step for our company," stated La Vie Celeste's founder, Dr. Teri Dourmashkin, who holds a Doctorate in Health Education from Columbia University.
"I really wanted to create a natural mineral make-up line that also incorporates a creme foundation in addition to powders, which can be difficult to find. Our entire line of mineral make-up wears like a second skin, or your skin, only better. Our unique textures, such as in our loose powder foundation, imparts both a matte, but dewey look without a trace of shimmer or shine which can accentuate fine lines and wrinkles and make skin appear oilier. And our Crème Foundation is so creamy, without ever looking or feeling greasy; they really are great for every skin type," said Dr. Dourmashkin.
Both the crème and powder foundations come in 6 gorgeous forgivable shades. "When we tried them on our clients, we were thrilled to discover that in some cases we could use up to 2-3 different shades on the same person and they all looked great," stated Christine Dannic, La Vie Celeste's Sales and Marketing Director, who is also a licensed skin therapist.
The entire make-up range is luxurious, but also affordable, with pricing starting as low as $14.00 for one of the concealer brushes to $39.00 for the Crème Foundation. "Since these products will last such a long time, they really are a great value for such high quality premium products," said Dr. Dourmashkin.
The make-up line is currently available at http://www.laviecelesteskincare.com and other select retail outlets.
For more information, contact Dr. Teri Dourmashkin, Founder (E) sales(at)laviecelesteskincare(dot)com (P) 866-921-9599.
###