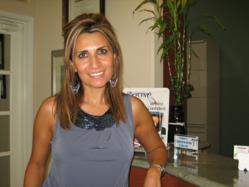 It's important for us to be able to provide our existing and potential patients with as much information as we can, as efficiently as we can. This way, patients can look for what they need at their convenience [...]
Foothill Ranch, CA (PRWEB) October 10, 2012
Foothill Ranch dentist, Parisa Zarbafian, DDS, of ProSmile Dentistry has announced the launch of a new, patient-focused website. The practice recently launched the new website created by dental website design leader, ProSites, Inc. The website contains many interactive features including patient education videos and a free Smile Analysis feature that helps patients make better informed decisions about their oral health. The website also utilizes extensive search engine optimization techniques to reach patients and local consumers who are searching for relevant information about Foothill Ranch family dentistry services.
"The reality is that in today's society more and more people are utilizing the internet to search for information and services," said Dr. Parisa. "It's important for us to be able to provide our existing and potential patients with as much information as we can, as efficiently as we can. This way, patients can look for what they need at their convenience, whether it's in the evening or on the weekend or during their free time. With our website, we are always here!"
Current and prospective patients now have access to information about Foothill Ranch Invisalign, educational videos, before and after photos of dental procedures, and other informative content when they visit the website. Some of Dr. Parisa's services include:
Family Dentistry
Orthodontics
Dental Implants
Cosmetic Dentistry
Dr. Zarbafian is also utilizing her website to educate the community on the importance of oral health. The website includes a links page with informative resources as well as a smile gallery featuring before and after images ranging from various dental procedures.
"We have tried to anticipate questions from patients and to provide the most current and thorough responses to hot topics in dentistry." Dr. Parisa said, "From our website, to article postings on Facebook and Twitter, to the ability for patients to contact me directly through e-mail with a question...our presence on the internet enables patients to reach us anytime!"
About Parisa Zarbafian, DDS:
Dr. Parisa is a well experienced and skillful dentist who believes in caring for each patient and treating them with only high quality dental care. Her experience with patients of all ages makes her truly qualified as a "family dentist." As a licensed Doctor of Dental Surgery, Dr. Parisa understands the importance of having great oral health as well as a beautiful, healthy smile. She studied the University of California, Irvine, where she graduated with a Bachelor of Science Degree in Biology. In 1999, she received her Doctorate of Dental Surgery degree from Northwestern University Dental School. Since 2001, Dr. Parisa has also been involved with the Orange County Dental Society and served as the President in 2007. The OCDS currently has 2000 active members. In addition, she is also a member of the California Dental Association, serving as a delegate to the CDA for the past 10 years, and volunteering on various councils and committees. Dr. Parisa is currently one of the two trustees from Orange County to the California Dental Association. Other professional associations Dr. Parisa is a part of include the Lake Forest Kiwanis Club, Orange County Women's Dental Society, and the South Orange County Chamber of Commerce. For more information about ProSmile Dentistry, please visit their website at prosmiledentistry.com.