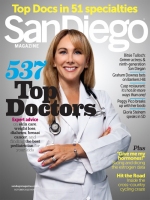 I take pride in the fact that we build close relationships with our patients.
San Diego, CA (PRWEB) October 22, 2012
LASIK and cataract surgeon, Sanford G. Feldman, M.D., has once again been named a "Top Doctor" by his physician colleagues in a survey by San Diego Magazine. This is the second time Dr. Feldman has been recognized by his peers as one of San Diego's best ophthalmologists. Dr. Feldman founded One to One LASIK and One to One Eye Care in the belief that doctors need to spend more time with patients, educate patients more thoroughly, and answer their questions more completely. His highly individualized approach to eye surgery and exceptional vision results have helped make him one of Southern California's most sought after eye surgeons. "I take pride in the fact that we build close relationships with our patients," says Feldman. "We treat every patient as if they were family, and we get truly excited for them when they achieve the great vision they wanted. I feel humbled and privileged to have my colleagues honor this style of practice with another Top Doctor award."
Dr. Feldman has earned a national reputation as an expert in patient education. He has written books, newspaper columns, radio and TV programs on eye health. He graduated with distinction from Stanford University and trained at the prestigious Jules Stein Eye Institute at UCLA, where he continues to serve on the clinical faculty. He has received the "Patient's Choice" award for 5 consecutive years. He blogs and posts regularly about advances in eye care on his website at http://www.121lasik.com , on Twitter (@121lasik), and on his Facebook page. He also responds personally to questions about eye health and eye surgery submitted through these sites. Dr. Feldman resides in La Jolla, California. His practice is in the Clairemont/Pacific Beach area of San Diego and draws patients from all of San Diego County and beyond.