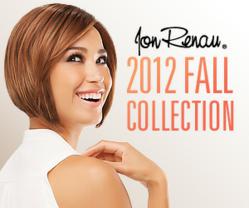 We're smitten with Victoria's sleek look and Drew's beautiful natural movement.
Dallas, TX (PRWEB) October 10, 2012
Wigs.com is thrilled to introduce the Jon Renau Fall 2012 Wig Collection to its customers. Composed of six new styles, this fall collection is focused around a woman's busy lifestyle and what best accommodates to her needs.
In every collection, Jon Renau's standard has always been to keep quality, style and comfort a priority. The Jon Renau brand understands that wig wearers need top quality and comfortable pieces in order to feel confident. Jon Renau delivers the highest level of comfort and natural looking wig styles in this fall collection with features such as lace fronts, monofilament tops and hand-tied cap constructions.
The six new styles range from soft pixies (Jane, Jenny, Star) to longer feminine layered wigs (Adriana, Drew, Victoria). Fashionable and on-trend styles are also a priority to both Jon Renau and the wig wearer, and both are evident in this wig collection. Wigs.com showcases each of these styles beautifully with their exclusive photo galleries and product videos that let the customer view each wig closely.
"We're smitten with Victoria's sleek look and Drew's beautiful natural movement," says Christina Jones, host of wigsTV. Whether you prefer to go long or short for the new season, Jon Renau has delivered a new collection that is as refreshing as autumn breezes just for you.
About Wigs.com:
For more than 15 years Wigs.com has been focused on wearable hair. It has established its name as the best source for alternative hair and related products. In doing so it has separated itself from the competition with the expertise and education offered to the public. Celebrity lines such as Raquel Welch, Daisy Fuentes, Sherri Shepherd, Tabatha Coffey, Vivica A. Fox, Eva Gabor and many others have partnered up with Wigs.com because they acknowledge their superior customer experience and product knowledge.