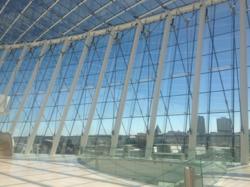 "Getting that first opportunity to build an idea on Google Fiber is one step closer to creating a better future for Kansas City," said Michael Gelphman, Founder of Kansas City IT Professionals
Kansas City, MO (PRWEB) October 10, 2012
Compute Midwest showcases a one-day conference with a distinguished speaker lineup and the first ever hackathon on Google Fiber for a 2 day "convergence of tech" in Kansas City.
The conference kicks off the event on November 9th at the Kauffman Center for Performing Arts, where tech leaders and startup founders will share stories on how their companies are changing the way the world works through cloud computing, mobile & other technologies.
The Compute Midwest speaker lineup includes:
Brad Abrams - Product Manager Cloud Platform team, Google
Scott Chacon - Chief Information Officer, Github
Jason Hoffman - Founder & Chief Technology Officer, Joyent
Naithan Jones - Founder, AgLocal
Zach Kaplan - CEO, Inventables
Dan Levin - Chief Operating Officer, Box
Ben Milne - CEO & Founder, Dwolla
Michelle Munson - CEO & Co-Founder, Aspera
On November 10th, 100+ developers will come together for the first ever hackathon in which competitors will leverage Google Fiber in order to build the "next-generation" of apps in 24 hours. Thousands of dollars in prizes will be awarded to innovative ideas that utilize gigabit network speeds, improve digital inclusion, leverage event partner APIs, and more.
"Compute Midwest will inspire attendees to think about what the future holds. By hearing from our lineup of innovative leaders & founders, this event will spur new thoughts and perspectives," said Kansas City IT Professionals founder Michael Gelphman. "We're also excited to see what apps are created at the hackathon, getting that first opportunity to build an idea on Google Fiber is one step closer to creating a better future for Kansas City."
To learn more about Compute Midwest, visit http://www.computemidwest.com
About Kansas City IT Professionals (KCITP):
KCITP is a grassroots tech community of almost 10,000 members and are the organizers & creators of Compute Midwest. They aim to advance technology-related disciplines and inspire innovation throughout the Kansas City metropolitan area.
Learn more about KCITP, visit http://www.kcitp.com