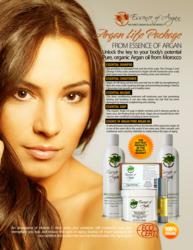 I LOVE ESSENCE OF ARGAN!
Toronto, Canada (PRWEB) October 16, 2012
Toronto International Film Festival & Essence of Argan Dominate the Red Carpet – Again!
Lucky celebrities attending the 37th Annual Toronto International Film Festival, on September 6th through the 16th, received full sized bottle of Eco-Certified organic, Essence of Argan. Even famous people have problems with their skin/hair at times, and the word from the promotion staff is that all the rich and famous product testers still use Essence of Argan for hair, skin and nail care as their go-to product when the cameras are flashing and all eyes are watching.
Ryan Gosling, Eva Mendes, Tim Robbins, Ed Norton, Michael Keaton, Gwyneth Paltrow, Marisa Tomei, Hugh Laurie and Emily Blunt, among others, were the recipients of the gift bags containing Essence of Argan Oil. It's safe to assume that all of the celebrities who used Essence of Argan for hair and skin care are now reaping the benefits.
Argan Oil Is "Red Carpet-Ready"
For the second time in a row, this skillful product placement at the Toronto International Film Festival was the work of two young entrepreneur/owners of a new beauty products site promoting Essence of Argan, called ShopArgan.com. The Shop Argan site sells a full line of the highest quality 100% organic eco-certified argan oil products. The site owners and users alike really believe in the curative benefits of this rare oil, and apparently so do celebrities, particularly when using argan for hair care. According to the ShopArgan.com owners "All the celebs loved the products… and their response is the argan oil shampoo, conditioner and hair masque are red carpet-ready."
About Argan Oil:
Essence of Argan was recently featured in More magazine issue as a "new" plant-based solution for dry skin and hair. People who use Argan for hair have found that, in its pure state, the oil is actually a very ancient remedy for troubled skin and nails, and diaper rash in babies.
Essence of Argan has been used for centuries to soften skin and ease dryness in the extreme climatic conditions of North Africa. Argan oil is even used as a food. Argan oil is edible and highly nutritious, with a pleasant nutty flavor. Updated products have blended argan oil into many new skin and hair products such as shampoo and conditioner with argan for hair care, and skin treatments. Argan trees, which grow exclusively in the North African deserts of Morocco, is the only source of this miraculous oil, known as "Liquid Gold."
Native Berber women remain the sole farmers of argan oil seeds, and this endangered resource is harvested under the protection of UNESCO. They are guaranteed a livable wage under the UNESCO agreement as the world's only producers of argan oil seeds. Talk about social awareness!
Ties To Argan Oil Production:
The http://www.ShopArgan.com founders are trying to spread the word about the remarkable healing qualities of 100% natural Essence of Argan oil. The founders have family ties to the argan forest in Morocco, and celebrities agree that the oil has amazing natural healing abilities when using argan for hair care and other uses. As a special promotion – All products at http://www.ShopArgan.com are 50% off when applying the promo code FRIEND before entering credit card details. Happy shopping and tell a friend about these amazing products. Hollywood looks for main street prices!