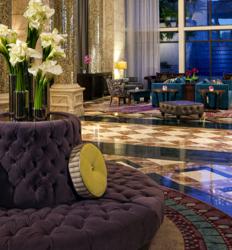 "At Gettys, we are true believers in celebrating the destination we are in through our design," said Paula Azevedo, design director, Gettys. "The color palette and décor meld seamlessly with the surroundings"
Miami, Florida (PRWEB) October 11, 2012
Leading hospitality design and interior architecture firm Gettys and The Ritz-Carlton Coconut Grove, Miami unveiled a newly-renovated lobby and lounge yesterday in conjunction with the hotel's 10th anniversary. Renowned for their expertise in evoking a distinct sense of place communicated through design, Gettys' main inspiration for the project came from the area's lush, bay front surroundings and the peacock which has become an iconic symbol in Coconut Grove.
"At Gettys, we are true believers in celebrating the destination we are in through our design," said Paula Azevedo, design director, Gettys. "The color palette and décor meld seamlessly with the surroundings while pieces by local artists celebrate Coconut Grove's vibrant community and culture."
Invigorating hues of blue, violet and green are featured throughout the lobby, anchored by inviting neutral, plush couches and low lying end tables clustered for comfortable conversations. Cocktail seating, framing a living room-inspired setting and dining tables by the grand fireplace welcome guests to the hotel's neighborhood Lazuli Lounge named after the blue gemstone, Lapis Lazuli. The focal point of the lobby is a stunning cascading fountain boasting a prism of iridescent colors. When the sun sets, the fountain terrace transforms into a sultry lounge with oversized couches, fire pits and cafe-style dining featuring a new tropical, Mediterranean influenced menu.
"Hotel lobby designs have really progressed from a place reserved for check-in and check-out transactions, to a venue appealing to hotel guests and the surrounding neighborhood," said Jacqueline Volkart, general manager, Ritz-Carlton Coconut Grove, Miami. "With our design, we aimed to provide an inviting and comfortable space for guests and the Coconut Grove community that blends with the laid-back, bohemian-rich culture that defines the destination."
As part of The Ritz-Carlton Coconut Grove, Miami's 10 year celebration, the hotel hosted a 10/10 Celebration Soiree which saw the unveiling of the renovated lobby lounge and fountain terrace on Oct. 10. During October, guests are also invited to enjoy a special room rate and $10 specialty priced meals, cocktails and spa treatments. Ten overnight guests staying during the month of October will also find a 14K white gold, ¼ carat, brilliant diamond pendant necklace under their pillow.
Other current, notable hospitality projects by Gettys include the recent renovation of guestrooms and suites at The Peninsula Hong Kong's Tower, which opened to the public Sept. 6, 2012. The project is part of a comprehensive $60 million renovation that will culminate in the complete overhaul of all 300 of the hotel's guestrooms and corridors by April 2013.
About Gettys
Gettys is an award-winning, creative and innovative team of business-minded hospitality and hotel design experts headquartered in Chicago with offices throughout the Americas, Asia Pacific and the Middle East. For nearly 25 years across the globe, Gettys has specialized in creating value through interior design, procurement, branding, and development services from project conception to completion. For more information and a sampling of Gettys' extensive portfolio, please visit http://www.gettys.com.
About The Ritz-Carlton Coconut Grove, Miami
The Ritz-Carlton Coconut Grove, Miami is the area's only luxury hotel. Offering highly personalized service in an intimate setting, the 115-room boutique hotel is within minutes of the Coral Gables shopping district and international business and banking centers of Brickell Avenue and Downtown Miami. Set on four acres of lushly landscaped gardens, the hotel features Bizcaya with award-winning cuisine the executive culinary team describes as simple chef-crafted cuisine infused with Mediterranean influences, the recently renovated lobby and Lazuli Lounge overlooking a cascading waterfall and cozy fire pits, 6,000-square-foot Boutique Spa and Fitness Center, renovated pool deck featuring four private cabanas and dining pavilion, grand ballroom with its own private entrance, meeting rooms and much more. The hotel is easily accessible from the Miami International Airport and international cruise terminals. Exciting nightlife, fine restaurants, area attractions, upscale boutiques and water activities are steps away, while South Beach is a short drive from the hotel.