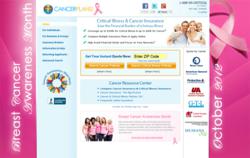 "Offering a valuable resource is key," Cary Rentner explains. "But you also have to make that resource easy to find. The domain name change will help our customers access the information they need much more efficiently."
Fort Lauderdale, Florida (PRWEB) October 10, 2012
CancerPlans.com has launched a new breast cancer resource page, designed to promote Breast Cancer Awareness Month by providing helpful information for cancer survivors, patients and potential victims.
"We wanted to do our part to help fight breast cancer by offering an easily accessible, engaging information resource," says Cary Rentner, president of CancerPlans.com. "There's so much information out there. We wanted to narrow it down and help people find answers to the most important questions."
The resource page includes a wide range of links to helpful websites, organized under four topic headings: "Breast Cancer Basics," "Are You At Risk?" "Resources for Survivors" and "Join the Fight." From the landing page, site readers can examine slide shows, read firsthand breast cancer survivor stories and access numerous informative articles, as well as cancer-fighting sites like "Men Against Breast Cancer" and "Susan G. Komen for the Cure."
In addition, the resource page offers a helpful introductory overview of current breast cancer information and statistics, including a section of surprising cancer facts that readers may not have heard.
The page is currently live on CancerPlans.com at http://www.cancerplans.com/breast-cancer-awareness-month.
CancerPlans.com, a nationally licensed supplemental insurance agency, provides a variety of cancer insurance policies from top-rated carriers, offering a lump sum benefit upon first diagnosis of a covered condition. Customers can quote insurance companies and apply for a policy through a single, streamlined online portal.
The company is planning to change its name to CancerInsurance.com in the near future – creating another way to make the cancer information search easier for consumers.
"Offering a valuable resource is key," Cary Rentner explains. "But you also have to make that resource easy to find. The domain name change will help our customers access the information they need much more efficiently."
About CancerPlans.com: CancerPlans.com is an independent, nationally licensed insurance agency that allows customer to compare, quote and apply for supplemental cancer insurance or critical illness insurance online. Using proprietary technology, CancerPlans.com provides quality supplemental insurance information from a variety of respected carriers -- giving customers the tools they need to communicate with agencies, compare prices and apply for a wide range of policies, all from a single online platform.