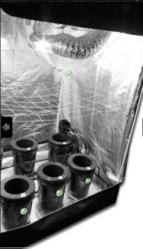 San Francisco, CA (PRWEB) October 10, 2012
Grow room setup is made easiest with good instructions. SuperCloset SuperRooms come with a DVD support disc that leads a new customer through erecting the tent, suspending the lighting components and carbon filter and setting up their hydroponics system. SuperCloset also offers live tech support to customers so that if the need arises for a live conversation about some particulars there is a customer service representative available to help.
The last part of grow room setup with a SuperRoom package is having patience and reading all instructions before getting frustrated. The SuperCloset SuperRoom packages come with all the support necessary to complete a grow room setup easily and efficiently. Check out SuperCloset's SuperRoom products at http://www.supercloset.com/products-page/grow-rooms/
About SuperCloset:
SuperCloset takes the guesswork out of growing through manufacturing the most innovative and customer friendly hydroponic systems and turnkey grow box units. After 10 years SuperCloset continues to lead the horizontal and vertical growing industry with its commitment to excellent products and world-class customer service.