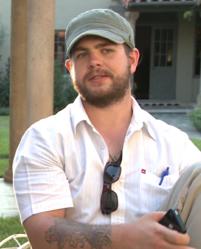 Los Angeles, CA (PRWEB) October 10, 2012
CrossFit Sunset (CrossFitSunset.com), the state-of-the-art training facility and crown jewel in Echo Park's latest wave of development, is thrilled to officially open its doors to the public with a launch event from 10am – 2pm on October 20, 2012 with celebrity co-host, Jack Osbourne.
"Not only am I looking forward to the opening event but excited to get in an extra training session with my friend, fitness coach and CrossFit Sunset owner, Ty Vincent, as well," said Jack Osbourne. "Staying fit and healthy has become really important to me and doing CrossFit with Ty has been a rewarding and challenging way for me to achieve those goals."
The launch event is open to the public, who can sign up on Eventbrite to attend at: crossfitsunset.eventbrite.com.
In addition, guests will be able to meet CrossFit Sunset's fitness experts, enjoy healthy snacks and, perhaps, get the chance to sweat a bit while they're at it. CrossFit Sunset will offer guests the opportunity to do the Workout of the Day (WOD) with Jack Osbourne. The WOD will take place at 10:30am and, because of class size, is limited to the first 20 who sign up for that portion of the event.
Owned by head coach, Ty Vincent, CrossFit Sunset is a 4,000-square foot, refined industrial space that offers unique and unexpected fitness-enhancing details like a sprung floor and Astroturf in addition to the rowing machines, free weights and kettlebells one might come to expect. Regardless of age, fitness level or goals, CrossFit Sunset has set out to give a first-class, individualized experience, through a free intro class and three private coaching sessions to introduce proper form and technique to anyone new to CrossFit.
"We really thought about our members when we designed CrossFit Sunset," remarked Ty. "We're very excited to have our neighbors in Echo Park, Silver Lake, Hollywood and all across L.A. – whether already familiar with CrossFit or looking to try something new – to come in and see what we have to offer."
CrossFit Sunset is located at 1030 N. Alvarado, Ground Floor, Los Angeles, CA 90026. To get more information, go to http://www.CrossFitSunset.com
About CrossFit Sunset
CrossFit Sunset (CrossFitSunset.com) is a new, 4000-square foot, cutting-edge fitness center located in LA's Echo Park neighborhood (1030 N. Alvarado, Ground Floor, Los Angeles, CA 90026.) The cutting-edge facility offers unique, high-end equipment and a top-notch staff, lead by owner and head coach, Ty Vincent, in order to offer its members individualized, optimum fitness at any level.
Media Contact: Bryan van Gorder, Melrose PR, bryan(at)melrosepr(dot)com, (310) 450-7960, http://www.melrosepr.com