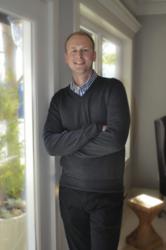 I am honored to represent this extraordinary brand and know together we'll accomplish great things.
Bainbridge Island, Washington (PRWEB) October 11, 2012
Representatives of Realogics Sotheby's International Realty today welcomed Mark Middleton to their global real estate network. Consistently ranked among the top ten most productive real estate brokers on Bainbridge Island according to Trendgraphix, Mr. Middleton's appointment will help the full-service real estate firm expand its service area while providing many advantages to grow his business both locally and off Island.
"We are very pleased to confirm that Mark has accepted our invitation to join our firm," said Marilyn Turner, the Bainbridge Island Branch Manager for Realogics Sotheby's International Realty. "We're developing an extraordinary team and we're confident that Mark will excel with our renowned Brand and unique marketing tools. We're building upon a 265-year old heritage of Sotheby's by resourcing the next generation of real estate leaders."
In addition to representing buyers and sellers of properties in Kitsap County, Middleton says he will represent second home buyers and investors in downtown Seattle and buyers within key resort markets that are popular with residents in the Pacific Northwest such as Hawaii, Palm Springs, Sun Valley and Cabo San Lucas to name a few.
"Bainbridge Island will always be my primary market area but to grow my business I need to expand my horizons and optimize the visibility of my listings to a broader sphere," said Middleton. "Partnering with Sotheby's International Realty and utilizing its incredibly powerful marketing systems, plus its global reach, will enable me to position my client's properties front and center not only locally, but nationally and globally as well. As a Buyer's Broker I have a unique and rare perspective of the area as I have lived on Bainbridge Island and in Kitsap County for almost two decades and know it exceptionally well, helping scores of families relocate here throughout my Real Estate career. I'm honored to be representing such an extraordinary Brand and I feel privileged to be working alongside some of the brightest minds in the business. I'm drawn to the positive culture and a spirit of collaboration within this company – together we will accomplish great things."
Middleton has been a 33-year resident of Bainbridge Island and remains active in local community organizations including his role as a Local Director and Board Member of the Kitsap County Association of Realtors.