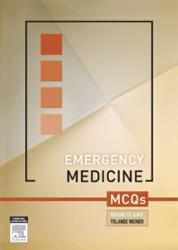 Packed with more than 750 multiple-choice questions, 'Emergency Medicine MCQs' will be an essential study resource for Australasia's emergency medicine trainees.
Sydney, New South Wales (PRWEB) October 17, 2012
'Emergency Medicine MCQs', a practical new text from Elsevier Australia, looks likely to become an indispensible study aid for emergency medicine trainees throughout Australasia.
Packed with more than 750 multiple-choice questions, 'Emergency Medicine MCQs' is a handy self-assessment tool, designed to assist trainees as they expand and refine their knowledge of emergency medicine. Plus, with questions covering both core and non-core areas in the Australasian Emergency Medicine Fellowship, Emergency Medicine MCQs will go a long way towards helping trainees pass the Australasian Emergency Medicine Fellowship examination (FACEM).
The curriculum is divided into three main areas where trainees require expert level of knowledge, high level of knowledge and general level of knowledge. Using this useful medical resource, trainees can revise alone or with their peers, using the questions to identify the areas of emergency medicine in which they need further development.
Filled with evidence-based, clinically oriented material, with references to currently relevant literature, 'Emergency Medicine MCQs' addresses important clinical problems encountered in everyday emergency medicine practice. These range from cardiovascular emergencies through to obstetric and gynaecology emergencies, disaster management and toxicology.
Students who purchase this emergency medicine text can further enhance their learning with an accompanying app. This separate product contains 180 randomised multiple-choice questions on all the topics within the book, and makes a great companion to the text.
As well as being ideal for emergency medicine trainees qualifying through AECM, 'Emergency Medicine MCQs' is suitable for GPs taking the GEM qualification through ACEM and JMOs 'on call'. Indeed, with its impressive breadth of content it promises to be an excellent resource for anyone preparing for a career at medicine's front line.
'Emergency Medicine MCQs' is now available to [buy online.
ABOUT THE AUTHORS:
Waruna De Alwis MBBS FACEM
Emergency Physician and Director of Emergency Medicine Training, Logan Hospital Emergency Department, Griffith University, QLD
Yolande Weiner MBChB FCEM MMED ED FACEM
Emergency Physician, Logan Hospital Emergency Department; Associate Lecturer, Griffith University Logan Campus
ABOUT ELSEVIER:
Elsevier is a world-leading provider of scientific, technical and medical information products and services. The company works in partnership with the global science and health communities to publish more than 2,000 journals, including The Lancet and Cell, and close to 20,000 book titles, including major reference works from Mosby and Saunders. Elsevier's online solutions include SciVerse ScienceDirect, SciVerse Scopus, ClinicalKey, MD Consult and Nursing Consult, which enhance the productivity of science and health professionals, and the SciVal suite and MEDai's Pinpoint Review, which help research and health care institutions deliver better outcomes more cost-effectively.
A global business headquartered in Amsterdam, Elsevier employs 7,000 people worldwide. The company is part of Reed Elsevier Group PLC, a world-leading publisher and information provider, which is jointly owned by Reed Elsevier PLC and Reed Elsevier NV. The ticker symbols are REN (Euronext Amsterdam), REL (London Stock Exchange), RUK and ENL (New York Stock Exchange).