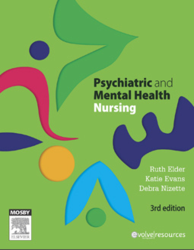 ... will help nursing students understand the complex causation of mental illness, and think critically and compassionately when caring for patients with mental illnesses
Sydney, New South Wales (PRWEB) October 15, 2012
Elsevier Australia is proud to announce publication of a revised third edition of the renowned 'Psychiatric and Mental Health Nursing textbook' by Elder, Evans and Nizette.
As the Australian Government attempts to address shortages in the mental health workforce – specifically mental health nursing – and expand the nation's capacity to provide mental health services, this market-leading nursing text remains an essential title for every nursing student.
As well as being packed with new research and content, this updated edition differs from the previous two in its strong emphasis on recovery and preventative mental health strategies. The authors' holistic approach will help nursing students understand the complex causation of mental illness, and think critically and compassionately when caring for patients with mental illnesses – from schizophrenia and psychosis through to bipolar disorder, depression and dementia.
This third edition of 'Psychiatric and Mental Health Nursing' delves deeply into the topics of mental health diagnosis, effective interventions – both current and emerging – and treatment options. Also new to this third edition is a chapter on forensic mental health nursing, plus content on the integration of mental health care into primary health care.
In addition to ethical and critical thinking challenges, pharmacology and evidence-based practice, this excellent mental health nursing textbook offers students a personal perspective with nurses' stories and case studies. Importantly, it also addresses the consumer's experience of mental illness, with links to first-hand accounts in the 'Stories in Mental Health' workbook.
'Psychiatric and Mental Health Nursing, 3rd edition' also offers students a local viewpoint, featuring chapters on mental health in Australia and New Zealand, the ANZ politico-legal context and indigenous mental health. Content is supported by Elsevier's Evolve platform, which features additional online resources for students.
With this comprehensive resource on hand, nursing students are sure to develop the necessary knowledge, skills and attitudes to confidently engage a recovery-oriented, empathic and holistic approach to their psychiatric and mental health nursing practice.
Copies of 'Psychiatric and Mental Health Nursing, 3e' are now available to buy online.
ABOUT THE AUTHORS:
Ruth Elder RN, BA(Hons),PhD
Ruth Elder is now retired, but was formerly a senior lecturer in the School of Nursing & Midwifery at Queensland University of Technology, Australia.
Katie Evans RN, BA, MLitSt, PhD, FACMHN
Katie Evans is a senior lecturer within the School of Nursing & Midwifery; Faculty of Science, Engineering & Health, at Central Queensland University.
Debra Nizette RN, Credentialed MHN, DipAppSc(Nursing Ed), BAppSc(Nursing), MNurStudies, FRCNA, FACMHN
Debra Nizette is a mental health nursing advisor and works within Queensland Health's Office of the Chief Nursing Officer.
ABOUT ELSEVIER:
Elsevier is a world-leading provider of scientific, technical and medical information products and services. The company works in partnership with the global science and health communities to publish more than 2,000 journals, including The Lancet and Cell, and close to 20,000 book titles, including major reference works from Mosby and Saunders. Elsevier's online solutions include SciVerse ScienceDirect, SciVerse Scopus, Reaxys, MD Consult and Nursing Consult, which enhance the productivity of science and health professionals, and the SciVal suite and MEDai's Pinpoint Review, which help research and health care institutions deliver better outcomes more cost-effectively.
A global business headquartered in Amsterdam, Elsevier employs 7,000 people worldwide. The company is part of Reed Elsevier Group PLC, a world-leading publisher and information provider, which is jointly owned by Reed Elsevier PLC and Reed Elsevier NV. The ticker symbols are REN (Euronext Amsterdam), REL (London Stock Exchange), RUK and ENL (New York Stock Exchange).