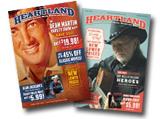 The brand caters to the entertainment loves and needs of Americans who prefer their musicians to play real instruments...
Irvine, CA (PRWEB) October 11, 2012
The redesigned Heartland website puts customers first with an attractive new lay out and vastly improved features to simplify shopping for music and movies.
Customers will be greeted by a handsome homepage that offers a daily deal, the top selling CDs and DVDs and special offers on music and movies. Improved website navigation will quickly help customers find their favorite artists and films. Plus improved category browsing will make exploring new albums and movies more fun.
One new feature entertainment hounds will surely love is price-drop alerts. If a customer spots a CD, LP, DVD or Blu-ray disc they like but want to see if waiting will get them a better deal, he can sign up with his e-mail address on that specific title and be notified if and when the price goes down. The customer can even name the discount they are looking for and not receive a notice until that product reaches the preselected discount price!
Heartland's updated website will even make recommendations based on search and purchase history to help customers find new artists and movies they might not have previously considered.
Heartland is a web and catalog retail company. The brand caters to the entertainment loves and needs of Americans who prefer their musicians to play real instruments and sing songs that tell stories or make you want to foxtrot, jitterbug or Texas Two Step. It promotes balladeers, classic Country & Western, jazz standards, big band, pop and rock 'n' roll before all the drugs. It is dedicated to TV shows with strong plots, clean language and loving families. Heartland customers tend to think movies look best in Technicolor, Cinemascope and glorious black & white! It is the reason why Heartland is "America's Favorite Music & Movies."