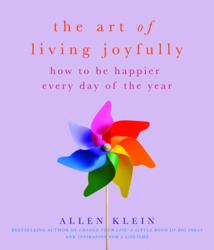 I am always looking for ideas that help people enrich their lives. This book does just that.
—SARK
(PRWEB) October 10, 2012
Overworked and "underjoyed?" Evening news getting everyone down? Allen Klein is here to the rescue with The Art of Living Joyfully! Allen is on a mission to help people laugh more, love more, and "live more," and offers many ideas and suggestions on how to up the "joy quotient" in your life.
Allen Klein is a motivational speaker and author who believes strongly in the way words can influence how we feel mentally, physically and spiritually. In this era of tweeting, email, cyberspeak and the non-language of texting, the written and spoken word has extraordinary power to touch our hearts and lift our spirits. In The Art of Living Joyfully, Jollytologist Klein presents a compendium of advice and plain old common sense comprising a guide to good cheer.
Based in San Francisco, Allen Klein is an award-winning professional speaker and author. His books Inspiration for a Lifetime, Change Your Life!, and The Healing Power of Humor have sold over 500,000 copies combined.
Join Allen at these events:
10/17: A Great Good Place for Books, Oakland – 7pm
11/14: Books Inc, Berkeley – 7pm
11/15: Towne Center Books, Pleasanton – 11am
11/15: Under One Rook, San Francisco – 6:30pm
1/9/13: East West Bookshop, Mountain View – 7:30pm