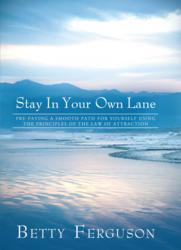 One can rise above any adversity and live a life full of peace, joy and love
Lebanon, Missouri (PRWEB) October 11, 2012
Everyone has their ups and downs, their highs and lows, but many people do nothing about the lows that are holding them back.
Betty Ferguson's Stay in Your Own Lane is a spiritual, self-help book that focuses on how to use the Law of Attraction to your benefit instead of letting it work in your life by default.
The Law of Attraction is the idea that a positive person will attract better things in his or her life as a result of their positive attitude, focus and level of personal energy. Ferguson said her intention is to give readers a clearer look at the scope of stressful issues of everyday life and allow people to realize they can change for the better.
Ferguson writes in "101" style to share with novices and experts alike what she has learned during the past 10 years of studying the Law of Attraction. In Stay In Your Own Lane, Ferguson outlines how the Law of Attraction works and shows there is a way to stop all the 'negative stuff' and get your life on a positive track.
"One can rise above any adversity and live a life full of peace, joy and love," says Ferguson, who speaks about overcoming obstacles from personal experience as well as a Law of Attraction life coach.
Stay in Your Own Lane shows readers that with the proper focus and a positive outlook on life, they can be, do or have anything they can imagine—and even more.
For more information, visit http://www.thelawthatworks.net
Stay in Your Own Lane: Pre-paving a Smooth Path for Yourself Using the Principles of the Law of Attraction
By Betty Ferguson
Hardcover, $28.99
Paperback, $11.99
ISBN: 978-1-4525-4406-9, 4408-3, 4407-6 Available at Amazon, Barnes & Noble
About the author
Betty Ferguson has studied the Law of Attraction for more than 10 years and recently began public speaking related to this topic. Her professional experience as a Law of Attraction life coach and other personal experiences of ups and downs inspired her to write the book. The ups and downs in her life taught her perseverance, and that 'you can create your life to be anything you choose.' With this book, Ferguson wants to make a positive difference in the lives of others; make them aware of the possibilities, and the steps to realize them.