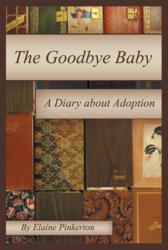 Until I met my biological parents, which I chronicle in the book, I blamed my anger and depression on not being with my 'real parents
(PRWEB) October 11, 2012
Elaine Pinkerton is one of more than 5 million adoptees living in the United States—a painful fact that haunted Pinkerton for much of her adult life until unforeseen catalysts opened the door to her emotional past and changed her outlook for the better.
After reading through 40 years of diary entries and coming to terms with painful memories related to her adoption, Pinkerton embraces her past and shares candid, personal stories in her new memoir, The Goodbye Baby: A Diary About Adoption.
"It took years to read through my journal entries," Pinkerton said. "As I read, I highlighted sections that shed light on how being adopted had shaped my life. Within my diaries, I discovered the former me, the person who identified herself primarily as an adoptee."
Pinkerton's personal struggles are of relevance to a growing number of people, as non- traditional families become more common in the U.S. and around the world.
Her raw, honest account of growing up in an adoptive family sheds light on the anger, pain and feelings of inadequacy that often result from an unstable childhood.
"Until I met my biological parents, which I chronicle in the book, I blamed my anger and depression on not being with my 'real parents,'" Pinkerton said. "Once I discovered that I was like neither my adoptive nor my biological parents, I was finally able to quit playing the 'blame game' and take control of my life."
Complete with childhood photos and personal essays, The Goodbye Baby provides insight to others who are dealing with the wounds of adoption.
For more information, visit http://www.adoptionstory.us.
The Goodbye Baby: A Diary About Adoption
By Elaine Pinkerton
ISBN: 978-4685-9815-5
Approx. 297 pages
Paperback 6x9
Retail price: $17.99
E-book price: $3.99
Available at Amazon, Barnes & Noble
About the author
Elaine Pinkerton has master's degrees in literature from the University of Virginia and from St. John's College in her hometown of Santa Fe, N.M. Writing is her first love, but Pinkerton has held many other jobs, including ski coach, technical writer, defensive driving instructor and elementary school librarian. She is a freelance journalist, with articles published in Runner's World, Family Circle, New Mexico Magazine and Tumbleweeds Family Magazine. Her published books include The Goodbye Baby, A Diary About Adoption, The Santa Fe Trail by Bicycle, From Calcutta with Love and Beast of Bengal. Pinkerton has also been featured in Patricia Shapiro's Coming Home to Yourself: 18 Wise Women Reflect on Their Journeys.