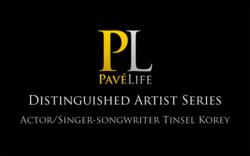 Trust that who you are is enough. - Tinsel Korey
Darien, CT (PRWEB) October 10, 2012
The entertainment deals site Pavé Life continues its successful "Distinguished Artist Series" with the release of its second episode. Pavé Life's latest video features an interview with actress and singer/songwriter Tinsel Korey.
View the Skype interview with Tinsel Korey here: http://bit.ly/Tfns5E
The exclusively web-based series (available on YouTube and Pavé Life's arts & culture blog) will showcase some of the most current and talented members of the arts world, from memorable musicians to masterful artists, in dynamic interviews and behind-the-scenes footage.
Perhaps best known for her role in the very popular Twilight Saga, Tinsel Korey is an Indie film starlet who is set on breaking into the music world. Her new EP "Seize the Day" is an up tempo, Folk Rock sound, the culmination of several years of original songwriting and collaboration. In the interview, this multi-faceted artist got the chance to speak about her roots, musical influences, acting experiences, and philanthropic endeavors.
About Pavé Life
Pavé Life is an online service that provides premium arts and cultural entertainment at significant discounts as well as exclusive dining options, allowing consumers to create a luxurious and affordable night out on the town. While those seeking first-class entertainment must usually pay exorbitant prices, Pavé Life offers a great alternative with tickets to venues nationwide up to 65% off. Additionally, you may choose to add an available premium restaurant (up to 50% off) to your ticket offer to make it a memorable night out.
Stay tuned for more great episodes in this exclusive series from Pavé Life.
For more information, check out Pavé Life's arts and culture blog or visit http://www.pavelife.com to view latest offers.