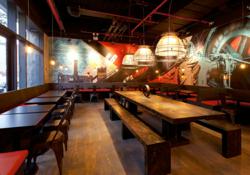 Fabbrica's concept is embodied in a cuisine that combines the creativity of contemporary culinary sensibilities with the powerful draw of classic italian dishes.
New York, NY (PRWEB) October 15, 2012
Fabbrica (The Factory), a boutique Italian restaurant, espresso bar, bakery and pastry shop announces the grand opening today on the Williamsburg waterfront, at the corner of North 6th Street and Kent Avenue, in the Edge Condominium building.
Award-winning architectural firm Ogawa-Depardon has put its signature on Fabbrica's extraordinary interior design.
The name Fabbrica, Italian for "factory", is paying homage to the extraordinary history of the neighborhood, once characterized by active manufacturing (most notable the Domino Sugar Factory, once the largest refinery in the US).
Fabbrica welcomes those who want to explore, share, and celebrate contemporary Italian cuisine and extraordinary boutique wines.
The "Café" area, with entrance on the N 6th Street, will feature an Espresso Bar in partnership with Lavazza, Italy's leading coffee brand. It will also offer bread, pastries and artisanal gelato. The main floor, with entrance on Kent Avenue, will host a full service boutique Italian Restaurant and Bar, serving finely-tuned, innovative Italian dishes, using the best of fresh ingredients. The dining room features communal tables, bar stools and standard seating, in an open space with dramatic 17- foot high ceilings.
In addition to the Restaurant and Café Fabbrica also offers a boutique Italian gourmet market dedicated to sourcing and producing the best goods on the market.
In the kitchen Award-winning Italian Executive Chef Simone Bonelli from Three Michelin Stars "Osteria Francescana" in Modena, Italy and Boulud Sud in New York City. The Pastry Chef is Michele Marconi, formerly with Bice and La Grenouille and general manager Loris Pignoletti overseeing the boutique Italian restaurant. The vast theatrical space is decorated by a large mural created by the acclaimed Brooklyn artist Olalekan Jeyifous, aka LEk.
To reserve a table please call 718-218-7045 For more info: info(at)fabbricanyc(dot)com
facebook.com/fabbricanyc