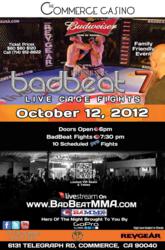 Badbeat 7 Weigh-ins free and open to the public
Santa Ana, CA (PRWEB) October 10, 2012
Main Event: Chris Beal (6-0) vs. Shad Smith (12-15-2)
One of Badbeat's top prospects and undefeated fighter 'The Real Deal' Chris Beal (6-0) is on the road to bigger and better things but MMA veteran Shad Smith (12-15-2) is in his immediate way. The Main Event storyline is young up and comer faces experienced vet but as is often the case, it will come down to a battle of wills and heart. Whoever has the most of both should come away victorious. Will Beal's road to the top be smooth and uninterrupted or will Smith prove to be the bump on the road and deliver Beal his first professional loss? Find out at Badbeat 7 on October 12th.
Co-Main Event: Mike Jasper (5-0) vs. Kyle Bolt (4-1)
Featherweight Mike Jasper (5-0) puts his undefeated record on the line as he faces Kyle Bolt (4-1) who is riding a four fight win streak of his own. Jasper has had some of the most exciting fights inside the Badbeat cage; he not only brings the fans, he brings the fight. Bolt will have to overcome the hostile environment outside the cage and match the pace inside the cage if he wants to get a win against the undefeated Jasper. Both fighters have vowed to "stand and bang". Only time will tell who can stay on their feet the longest.
Nick 'No Limit' Piedmont (6-3) vs. Sevak 'The Silverback' Magakian (12-3)
Two fighters from well renowned gyms face off as Nick Piedmont (6-3) battles Sevak Magakian (12-3) in the Featherweight Division. Piedmont trains out of Alliance MMA with the likes of UFC Bantamweight Champion Dominick Cruz. Magakian trains alongside the likes of Strikeforce Women's Champion Ronda Rousey at Gene LeBell's Hayastan MMA Academy. Both fighters look to continue their winning ways in 2012 as neither fighter has recorded a loss this year.
Steve 'The Dream' Magdaleno (9-3) vs. Jason Williams (4-4)
Featherweight Steve Magdaleno (9-3) has fought literally around the world for other promotions, but there is nothing like fighting close to home. Magdaleno finished his opponent with some devastating elbows in his last appearance in the Badbeat cage and he looks to finish Williams as well at Badbeat 7. Jason Williams (4-4) is searching for his fourth consecutive win that will give himself a winning record overall. To do so he must put a stop to Magdaleno's own three fight winning streak. Tune in to see who's streak continues at Badbeat 7.
Chris 'The Urban Legend' Culley (16-10) vs. Tom 'The Grinder' Gloudeman (6-2)
If the heated exchanges via social networks between these two fighters is any indication, this bout will be a war. Featherweight Chris Culley (16-10) comes off of a submission win over a long time rival at Badbeat 6. Culley now turns his intensity towards Tom Gloudeman (6-2). Gloudeman is on the first losing streak of his career and Culley's words have added further incentive for him to finish Culley. The war of words has led to an agreement by both fighters that the loser of their bout will donate their show purse to St. Jude's. A classic case of "put your money where your mouth is".
Weigh-ins for Badbeat 7 presented by Budweiser
When: Thursday, October 11, 2012
Doors open at 3:00 p.m.*
Fighters on scale at 3:30 p.m.*
Where: Commerce Casino
6131 Telegraph Road
Commerce, CA 90040
Badbeat 7 presented by Budweiser
When: Friday, October 12, 2012
Doors open at 6:00 p.m.*
First fight at 7:30 p.m.*
Where: Commerce Casino
6131 Telegraph Road
Commerce, CA 90040
Main Card*
Main Event- 145 lbs: 'The Real Deal' Chris Beal (6-0) vs. Shad Smith (12- 15-2)
Co-Main Event- 185 lbs: Mike Jasper (5-0) vs. Kyle Bolt (4-1)
11. 145 lbs: Nick 'No Limit' Piedmont (6-3) vs. Sevak 'The Silverback' Magakian (12-3)
10. 145 lbs: Steve 'The Dream' Magdaleno (9-3) vs. Jason Williams (4-4)
9. 145 lbs: Chris 'The Urban Legend' Culley (16-10) vs. Tom 'The Grinder' Gloudeman (6-2)
Preliminary Card*
8. 155 lbs: Eric Brown (3-2) vs. Jorge Valdez (4-2)
7. 205 lbs: John Hernandez (1-0) vs. Mike Smith (0-1)
6. 155 lbs: Gil Guardado (1-0) vs. Xavier 'The X-Man' Stokes (4-4)
5. 135 lbs: Terrion 'Flash' Ware (2-0) vs. Marvin 'The Mad Lion' Madariaga (1-0)
4. 125 lbs: Anthony Frank (1-0) vs. Bronson Casarez (3-0)
3. 170 lbs: Adam Gonzalez (2-0) vs. Tony Stewart (1-0)
2. 135 lbs: Ron Scolesdang (1-0) vs. Mike 'Mighty Mouse' Hansen (0-0)
1. 205 lbs: Christopher 'Buffalo' Schommer (0-0) vs. Nick Piecuch (0-0)
*=subject to change
About BAMMA USA
BAMMA USA is a mixed martial arts promotional company specializing in creating live entertainment, featuring both professional and amateur combatants. It is southern California's leading mixed martial arts organization, providing the area with monthly events and opportunities to professional and amateur athletes.
Currently stationed out of southern California, BAMMA USA promotes the area's top local talent from mixed martial arts gyms such as CSW, Knuckleheadz Boxing & MMA, Elite MMA, Kings MMA, PKG, Joker's MMA/Lightning MMA, The Bodyshop, Reign Training Center, Total MMA Studios, Ace Jiu-Jitsu, Cobra Kai, Gracie Morumbi, Cesar Gracie Jiu-Jitsu Academy, The Arena, Subfighter MMA, as well as many others.
Past and current fighters who have worked with BAMMA USA founder Brett Roberts include: Mike 'Joker' Guymon, Vladimir 'The Janitor' Matyushenko, Joseph 'Leonidas' Henle, Georgi Karakhanyan, Gabe 'Godzilla' Ruediger, Jason Lambert, Chad 'The Savage' George, Albert Rios, 'The Real Deal' Chris Beal, Jack 'The Outlaw' May, Jared 'The Jackhammer' Papazian, and more.
While the promotion prides itself on the motto: "Keep Moving Forward," the ultimate passion for BAMMA USA is to create an environment in which fighters are truly valued.
Web site: http://www.bammausa.com
Facebook: http://www.facebook.com/bammausa
Twitter: @BAMMAUSA
About TicketForce
TicketForce utilizes a powerful web-based ticketing system to provide venues, promoters, festivals, arenas and civic centers with a fully-customizable solution for full-service ticketing and box office management. TicketForce provides a complete suite of scalable products and services, including EasyTix – offering low, fixed fees, free call center support, and no equipment costs with minimum sales. Sales at http://www.myeasytix.com. All solutions include print-at-home ticketing, electronic will-call, access control, payment processing, management tools, and real-time reporting. More information is available at http://www.ticketforce.com and http://www.myeasytix.com
About Livestream
Livestream is the market leader for live event coverage. With simple to use technology, our service allows anyone to broadcast live to the web, as well as being the top destination for live content from around the world. Our clients include Facebook, The New York Times, ABC News, CBS News, Associated Press, HBO, AT&T, PepsiCo, Electronic Arts, Adidas, The Academy Awards, Warner Bros. Records, and Paramount Pictures.
Livestream operates with over 120 full-time staff members in 4 offices—in New York (headquarters), Los Angeles, Bangalore, and the Ukraine. The service is available for free (advertising-supported) or as a feature-rich, monetizable, premium service for business.
The New Livestream is an innovative new platform that combines live video with real-time photos, text, and video clip updates. The technology supports live blogging all executed with ease using the real-time posting tools from both mobile and the web. Features on the New Livestream include an improved video player and an array of new tools that allow more people to discover your event, interact with it and share it across the web.
More information can be found at new.livestream.com