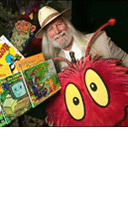 "Working together we can make the world a better place for our children," said Dr. Hope
San Diego, CA (PRWEB) October 10, 2012
Alpine Publishing announced today that their premier author, Tim 'Dr. Hope' Anders, has on his Laughing Day website the classic fairy tales he enjoyed as a youth.
There are over 300 of these classics now on his website that you can access for free. Kids, and adults for that matter, can now read the original version of Cinderella or Hansel and Gretel or Rumpelstillsin from The Grimm Brothers' Fairy Tales collection. The Hans Christian Andersen section contains classics we grew up with like: The Emperor's New Suit, The Little Mermaid, The Ugly Duckling and many others. And then there's the Mother Goose Nursery Rhymes section featuring Humpty-Dumpty, Hickory, Dickory, Dock, Hey! Diddle, Diddle, for the younger children. The legendary Aesop's Fables are presented in a cool interactive reader with music and animation.
Dr. Hope's Laughing Day Library website also has interactive storybooks for his own books, some of which are bilingual (English and Spanish) like:Chip, the Little Computer. Just click on the English button and the text is in English. Click on 'listen' and the book will be read to you by talented voice actors along with original music and cool sound effects. Click on Spanish and you can do the same thing. As an effective learning tool you can even have the text in English while it reads it to you in Spanish, and vice versa.
"I wanted to have a website where kids could go and do a lot of fun stuff while learning things that will help them the rest of their lives," said Dr. Hope, "There are interactive storybooks, games and even contests where kids and their classmates can win storybooks for their entire classroom."
Dr. Hope's award-winning children's storybooks teach kids the power of believing in themselves, the joy in helping others, the love of laughter, to always try their best and the benefits of living in the present moment.
About Tim "Dr. Hope" Anders: Dr. Hope is an award-winning children's book author who also writes books for grownups (like the true life love story of his parents: "Everybody Calls my Father, Father" his mother, an actress, and his father, a Catholic priest). Born in New York City, Dr. Hope learned a spirit of optimism and humor from his mother that would stick with him throughout his life. When he was forcibly separated from her at an early age, these lessons empowered him to cope with his ever-changing surroundings.
Having lived in foster homes, state run dormitories, with stepparents, grandparents and in boarding schools, Dr. Hope saw first hand, abuses that most of us can only imagine.
Dr. Hope vowed that one-day he would give children the same tools that had helped him cope with difficult situations and disagreeable people. From the promise he made to himself came the award winning "Life Lessons Series," a series of children's books that teach children "life" lessons in entertaining and amusing ways. He created Dr. Hope's Laughing Day Library to further his goal of helping children.
For more information about him go to http://www.DrHope.com.