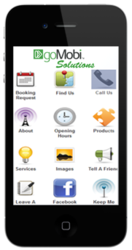 Mobile Website Design and Hosting
Fredericksburg, Virginia (PRWEB) October 14, 2012
ITX Design is proud to launch it's new mobile website service GoMobi Solutions. For as low as $5.95/month clients are able to create a mobile version of their website that work on any mobile device. Unlike regular websites, mobile websites are optimized so they display perfectly on mobile devices. This makes it easier on mobile device users to visit a website and obtain the important information without having to change the site size or scroll through small text. Most mobile websites focus on key website elements which include contact information, location, products, image galleries, and even forms to communicate with clients.
Spokesperson for ITX Design, Donald Schoolfield stated, "We're excited about our new partnership with GoMobi as it allows us to offer our clients the best in Mobile Website Development and Hosting." ITX Design is one of a handful of web hosts that have explored this unique form of hosting that's becoming popular as mobile web surfing increases.
Mobile-friendly features make it easy for customers to find what they're looking for while increasing sales conversion. GoMobi Solutions works on all phones, including smartphones and other connected devices like tablets.
ITX Design is a privately owned Corporation that specializes in website hosting and 24×7 technical support. http://www.itxdesign.com was established in 2001 by a group of software professionals. Since their inception they have won many awards which have established them as an industry leader. Over the years ITX Design has seen explosive growth with its full line of web hosting solutions (Shared Hosting, Dedicated Servers, and VPS).