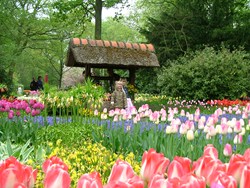 If travelers skip Da Lat in their Vietnam tours, they are likely to miss Eiffel Tower when visiting Paris
(PRWEB) October 10, 2012
Located in Lam Dong province – Vietnam, Da Lat has been long considered as the symbol of eternal spring with its great and favorable climate. If travelers skip Da Lat in their Vietnam tours, they are likely to miss the Eiffel Tower when visiting Paris. It is said that Da Lat is a different world between the tropical cities in Vietnam. In fact, all people once coming here fall in love with its romantic beauty and see it as a paradise for vacation.
Located on Langbian highlands at the elevation of 1,500 meters, Da Lat originates from the hill tribe of the region. It was first discovered in 19th century. Since then, Traveling to Da Lat has become the ideal choice for tourists, especially honeymooners.
Da Lat is well-known for the charming lakes and waterfalls, which are surrounded by evergreen forests such as Xuan Huong and Than Tho. Owning the reputation of resort town with a wide of wooden villas, health spas and elegant hotels, Da Lat brings the elegant and luxurious beauty of a modern city. However, its natural characteristics are always considered as its outstanding enchantment. Tourists will have unforgettable memories and deep impressions on reaching Flower Garden, Valley of Love, and Langbian Highland. They seem to become the legend for long because of the heavenly charm. Especially, this city is named as the destination of lovers. Couples can enjoy the greatest moments with their lovers in the romantic and peaceful world here. For families and groups of friends, it must be so enjoyable to have a fresh and comfortable holiday.
Dalat has countless restaurants to serve the diverse visitors, from all walks of life and origins, with offerings ranging from Local Lamdong province, Dalat food, to central and southern Vietnamese dishes and a fair number of Western and French inspired eateries, bars and restaurants, serving every budget and aspirations.
Most visitors to Dalat like to take home dried and candied fruits, strawberry preserves, coffee, green and artichoke tea, local wine, dried venison, orchids, strawberries, avocados, and other fresh product.
At present, there are many Package Tours to Da Lat with big deals offered by Smile Travel Vietnam. Just with $15 - $22, tourists can spend a full day visiting notable destinations on a biking trip. Many other tours are available on the website with attractive prices and high quality service.