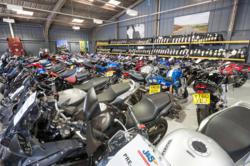 (PRWEB UK) 11 October 2012
J&S Accessories Oakmere, the UK's largest motorcycle superstore, is holding a Classic Bike show on Sunday 21st October set across their sprawling 32,000 sq. feet of motorcycle accessories store and 20,000 sq. feet of showroom. It promises to be an epic day where classic bike enthusiasts and motorcycle loving families can come to admire these beautiful machines.
Since its foundation over 30 years ago, J&S Accessories has developed an unrivalled reputation as one of the premier suppliers of everything from motorcycle leathers and boots to the very best in Motocross gear. Its Oakmere store was opened back in April and, complete with an on-site cafe and CBT centre, it is the perfect venue for this huge event.
Alex Johnson of J&S Accessories is optimistic that it is going to be a fantastic day: "We're really excited to be hosting this event at our Oakmere store. We've got so much going on, including an Auto-jumble we're holding in collaboration with Ben Butterworth who puts on a lot of well-attended bike nights locally, so it's great to have him on board."
The Auto-jumble is particularly useful to owners of classic bikes, and Alex says that it is a great place to pick up replacement and spare motorcycle parts.
"With the classic bikes, it can be hard to track spare parts down if you need a replacement as they may simply not be manufactured anymore, so it's a great opportunity to locate that one component you need to get your bike up and running," says Alex.
"We're going to have loads of terrific motorcycles on display so I would encourage anyone who has a passion or interest in classic bikes to come down and check it out."
The Classic Bike show will be split up into around ten categories and the prizes for the winner of each one will be supplied straight from the enormous range of motorcycle clothing and accessories J&S have on offer.
So if you're a petrol-head with a love for motorcycles make sure you come down to J&S Accessories Oakham for an action-packed and fun-filled day out for the whole family.
With 12 stores nationwide, J&S Accessories are one of the leading suppliers of motorcycle accessories in the UK. To find out more about the Classic Bike Show and Auto-jumble or to view their range of products, visit them at http://www.jsaccessories.co.uk.