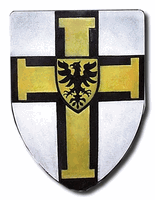 As part of a limited time fall sale, Historical Clothing Realm is offering a 5% discount on all merchandise, many of which are already marked down in price
(PRWEB) October 11, 2012
Historical Clothing Realm is your one stop shop for all your clothing needs. Whether you are looking for that unique Halloween costume, a standout look for an upcoming party, or a simple style to wear in everyday life, you can find it at this apparel site. And there is no better time than now to get your garb. As part of a limited time fall sale, Historical Clothing Realm is offering a 5% discount on all merchandise, many of which are already marked down in price. Customers can visit the website where they will find a promotional code to take advantage of this offer.
From the royal courts to the nobility of knights, there are plenty of options for those in the medieval market. One of the noteworthy novelties is the Teutonic Knight Complete Set. Dating back to the 12th century, the Teutonic knights were part of a German medieval military order, who aided Christians on their journey to the Holy Land. This 8 piece costume gives a powerful look, is historically authentic, and includes a Teutonic Knight's tunic, Teutonic Knight's cape, black knightly belt, and more.
While each individual item in the set is already discounted, it is a true bargain to get the complete costume, with a savings of over $150.
When it comes to female fashion, Historical Clothing Realm does not fail either. Presenting a wide array of renaissance gowns and dresses for any occasion, a woman is sure to find something to make her shine. For example, there is the captivating Athenian gown. Inspired by the compelling art and architecture of the Acropolis and Temple of Olympian Zeus of Greece, this sleeveless, satin-like gown is a beautiful white design with rich gold trim accenting the neckline and waist. It also comes with a long flowing veil that is the perfect finishing touch. Though a woman will feel like a million bucks in this shimmery gown, she will not have to break the bank for this item, as it comes at a discounted price.
For those fans of historical periods such as Renaissance or Elizabethan, and for the fantasy and movie lovers, you will also find costume collections to satisfy your deepest desires at Historical Clothing Realm. In addition, you can also find armor, weapons, and other accessories to compliment your costuming needs. So, save now and hasten to http://www.historicalclothingrealm.com/