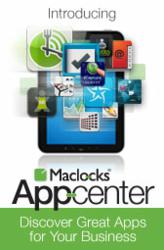 The combination of deploying Maclocks world's best iPad security and display products with best business apps in the market creates a total leading solution
(PRWEB) October 11, 2012
Maclocks, the premier brand of iPad security and display solutions, has launched today in cooperation with industry's top iPad app companies the Maclocks App Center to offer its customers not only with hardware security solutions but also with a variety of business software solutions for any use.
iPad business deployment is growing fast due to great cost value and brilliant technology. As AT&T, the international carrier, did just few months ago, Urban Outfitters, the US publicly traded retailer (with over 400 retail locations) had recently announced the dropping of traditional cash registers for iPad touch-based payment systems in order to save 80% of operational costs. These are just two examples from a list of worldwide organizations who made the iPad a key player within its strategy; companies like Starbucks, GE, Benetton, United Airlines, Hyatt Hotels & Resorts, SAP, IBM, Verizon, Cisco and according to ZDNet the list is still growing tremendously.
The Maclocks App Center introduces custom B2B apps across a range of categories for businesses to deploy within all fields of uses and to address a specific business need; integrate with back-office environments, deliver a custom interface for customers in public spaces or end-users inside organizations. Maclocks will promote partners' business apps online, chosen exclusively from thousands of apps available for iPad in business, both sides customers will enjoy special partners offers in order to set up a total solution for their iPad deployment.
Among the first exclusive partners to establish the Maclocks App Center are MokiMobility with Mokitouch, a remote cloud based mobile device management for iPad kiosks, iCapture with iCapture iPad data capture app for offline usage of customer data base generation, Quickrate+ by Terillion for capturing customers reviews on iPads at point-of-service, Yooba Studios with Yooba Publishing Platform companies can create and manage iOS apps for Kiosk and Enterprise use, ShopKeep POS by ShopKeep with iPad POS system for retail, ShiftPlanning by Shiftplaanning.com with time-clocking, workforce management and online employee scheduling software, NoWait app by NoWait offering an iPad wait list & seating tool for casual dining restaurants, and Aptito by Aptito Inc. with 'All-In-One' digital menus for hospitality and restaurants.
"From small businesses to Fortune 500 companies, organizations all over the world are using iPad to increase efficiency and to engage customers and this partnership is a necessary part of the industry's evolution, " said Alexander Gad, Maclocks GM. " The combination of deploying Maclocks iPad enclosures and kiosks with best business apps in the market that will suit with our clients needs creates a total solution. We are proud to offer our clients with the most valuable apps for their business and to remain the best of choice for iPad security & display solutions to our leading partners."
The Maclocks App Center is open for new ventures and additional partnerships for leading B2B app developing teams.
About Maclocks
Maclocks is a world leading brand and a premier designer and manufacturer of locking and display solutions for Apple's elegant iPad, MacBook air, MacBook Pro, Mac mini and iMac devices. Maclocks products security and display solutions are the best of choice for over 30% of the fortune 1000 companies across US and Europe.
Maclocks has been working with its customers and partners to solve their security requirements using innovation, the highest quality materials, integrity and commitment to the highest level of customer service. Maclocks owns a large number of patents in the field of hardware security and spends great resources on R&D and in quality control of its dedicated line of products.
Maclocks' Apple dedicated line of products are sold to corporate accounts, retail and commercial companies, educational institutes, state and national government agencies, resellers and distributors world wide.