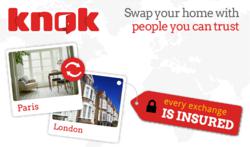 If offering an insurance will help people take the first step to a home exchange lifestyle, it is definitely a necessary service
Barcelona (PRWEB) October 11, 2012
Knok, the new generation house swap site, has launched the first ever Home Exchange Insurance that is integrated in the annual subscription of every member. This breakthrough comes in a time where the trend of home swapping around the world is growing in double digits. Knok's Home Exchange insurance does not only enhance its current users' experience, but will also help first time users discover the advantages of this unique way of travel. With the Home Exchange Insurance, the members in Knok's community feel reassured that their homes are protected while they are traveling around the globe.
Exchanging homes is a trending travel alternative that many families have started to adopt, especially in the past few years. The philosophy of home swap lies in the concept of trust: "You are in my home while I am in yours; I will do my best to treat your home with utmost care, and I hope you will do the same with mine." To reinforce the trust factor as well as guarantee users that their homes will be absolutely safe in their absence, Knok launches the first ever Home Exchange insurance that is included in the annual membership.
Knok's Home Exchange Insurance covers every house exchange that takes place within Knok's system. This insurance covers all the damages occurred in a home (up to 200,000 USD).
"It is very important for us that our users feel safe and comfortable within our community. Swapping homes is a wonderful way to travel around the world; one just has to take the first step. Although the incidents in home exchange are extremely rare, if offering an insurance will help people take the first step to a home exchange lifestyle, it is definitely a necessary service," explains Juanjo Rodriguez, founder of Knok.
Knok (http://www.knok.com) has a community with members from 147 countries, all willing to swap their home and live fascinating travel experiences. With Knok's Home Exchange insurance, swapping homes couldn't be easier!