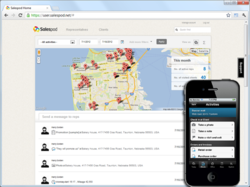 Monitor your team's field activities from your Gmail account, collect crucial information in real time.
San Francisco, CA (PRWEB) October 12, 2012
Sales force mobility software company, Salespod, has announced an upgraded version of their software available on Google Apps Marketplace for business, for wider availability and seamless integration for Google product users. A software subscription solution for field sales management, merchandising and field market research, Salespod will now be available via Google Apps Marketplace, web, as well as natively on iOS and Android in the cloud.
The integration within Google Apps Marketplace will allow users of the software who run their company with Google products to seamlessly transition between Google products, such as businesses using Gmail, and Salespod on the web. Salespod's web dashboard through Google App Marketplace includes all of the mobile features such as client tracking, photos, messaging, location tracking, time tracking, and daily reporting, as well as upgraded features such as price tracking and product details and tracking. All new upgraded versions of Salespod will be available across platforms with the Google App Marketplace announcement this week.
"Sales force mobility is a powerful tool. We believe Salespod availability through Google Apps Marketplace will give greater availability to more businesses as well as offer simple usability for small and mid sized companies already using Google products," Salespod founder, Marko Kovac.
Salespod can be downloaded from Google App Marketplace here: Salespod Google Apps.
About Salespod:
Salespod.net specializes in developing mobile software solutions for enhancing sales processes for the CPG (consumer packaged goods) industry, the pharmaceutical industry and the cosmetic industry. Since their foundation in 2008, the vision has been to offer the most comprehensive and most convenient mobile solutions on the market for sales and mobile management. Coined the swiss army knife for your mobile workforce, the software is used by L'Oreal Paris, Lavazza, Keune Haircosmetics, Jaegermeister and many others. Salespod's solution is poised to change the way field sales teams communicate, collaborate, and conduct business. This is a fundamental shift occurring in field sales and merchandising. Gone will be the days of clunky CRM systems. For more information or a free trial, go to Salespod.net. For industry industry news and reports, visit the Salespod blog at http://www.salespod.net/blog/all-news/ or https://twitter.com/SalesPod