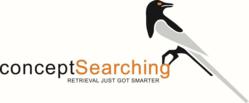 This is an ideal forum in which to explore the unique qualities of our Smart Content Framework™ coupled with conceptClassifier for SharePoint.
McLean, VA, US and Stevenage, UK (PRWEB) October 10, 2012
Concept Searching, a global leader in semantic metadata generation, auto-classification, taxonomy management software, and developer of the Smart Content Framework™, will be speaking at the KMWorld 2012 Knowledge Sharing and Learning event, to be held on October 17th-19th, at the Renaissance Washington DC Downtown Hotel, and will be in booth 201/203 to demonstrate its award winning technology.
Concept Searching will be sponsoring, exhibiting and presenting at the event, and offers the only platform independent statistical metadata generation and classification technologies that use concept extraction and compound term processing, proven over the past 10 years to add intelligence to content, resulting in improved access to unstructured information.
"This is an ideal forum in which to explore the unique qualities of our Smart Content Framework™ coupled with conceptClassifier for SharePoint. The solution enables clients to address specific information governance challenges they are trying to solve," said Martin Garland, President of Concept Searching. "conceptClassifier is unique in the industry as it can address a wide range of challenges facing organizations. Typically, we see our clients first using the Metadata and Insight building blocks to solve search and information transparency. We then find clients utilize the remaining four building blocks together with conceptClassifier for SharePoint to improve records management, compliance, and data privacy and security. We are proud that so many of our partners and clients will be sharing their experience of Concept Searching technologies throughout this event, and we are delighted to be working with them."
Lt Col David Sanchez, USAF, Deputy PM, USAF Pilot Physician Program, will be a keynote speaker on Wednesday, October 17th, on Aligning Corporate Information Governance and Content, and will explore how a governance plan is necessary for delivering relevant content to users in an effective way, while protecting the enterprise from legal, regulatory, and noncompliance issues. Lt Col Sanchez will illustrate the challenges of information governance as the US Air Force begins the process of migrating from multiple knowledge and information management systems to a single Knowledge Management platform with over 72,000 site collections.
Lt Col Sanchez will also present on Friday, October 19th, on Building Effective Knowledge Operations, when he will discuss how the US Air Force is leveraging Air Force Medical Service and Army Medical Command best practices to deploy Knowledge Operations across eleven Major Commands and 43 Functional Areas for a user population of over 700,000 members.
Several Concept Searching partners will be sharing their expertise during the event:

From Project Performance Corporation, Zachary Wahl, Vice President of Strategic Solutions, will be moderating The Curious Lives of Full-Time Taxonomists session; Tatiana Baquero, Principal Knowledge Management Analyst, and Yanko Ivanov, Senior Knowledge Management Analyst, will be panel members of Enterprise Taxonomies in Action
Joseph Busch, Founder and Principal, Taxonomy Strategies will be part of the Metadata Interoperability and Findability Workshop and also the Taxonomies and Ontologies session
Juan Celaya, Owner, President and CEO of COMPU-DATA International, LLC, will be a panelist on SharePoint Tips and Tricks
Tom Reamy, Chief Knowledge Architect of KAPS Group, will be part of the Text Analytics Workshop
Michael Williams, Program Manager of InfoReliance, will be in the Enterprise Taxonomies in Action workshop
Richard Harbridge, Senior SharePoint Architect/Evangelist, at Portal Solutions will be discussing Is Your SharePoint Healthy? What's the Right Prescription?
Shawn Shell, Principal Consultant, Consejo, Inc, will be Making Sense of Office365 and SharePoint Online
Clients, such as the Consumer Products Safety Commission, and the US Army Medical Command will also be illustrating the benefits of using Concept Searching technologies.
Follow Concept Searching: http://www.twitter.com/conceptsearch
About Concept Searching
Founded in 2002, Concept Searching provides software products that deliver conceptual metadata generation, auto-classification, and powerful taxonomy management from the desktop to the enterprise. Concept Searching, developer of the Smart Content Framework™, provides organizations with a method to mitigate risk, automate processes, manage information, protect privacy, and address compliance issues. This infrastructure framework utilizes a set of technologies that encompasses the entire portfolio of unstructured information assets, resulting in increased organizational performance and agility.
Concept Searching is the only platform independent statistical metadata generation and classification software company in the world that uses concept extraction and compound term processing to significantly improve access to unstructured information. The Concept Searching Microsoft suite of technologies runs natively in SharePoint 2007, SharePoint 2010, SharePoint 2013, FAST, Windows Server 2008 R2 FCI, and in Microsoft Office applications.
The building blocks of Concept Searching's Smart Content Framework™ are being used by organizations from a diverse number of industries including the US Army, the US Air Force, the UK MOD, Baker Hughes, Deloitte, Logica, NASA Safety Center, OppenheimerFunds, Point B, Perkins+Will, Parsons Brinckerhoff, Burns & McDonnell, MarketResearch.com, the US Department of Health & Human Services, Transport for London, the London Fire Brigade, the National Transportation Safety Board, and Xerox.
Headquartered in the US with offices in the UK, South Africa and Canada, Concept Searching solves the problem of finding, organizing, and managing information capital far beyond search and retrieval. The technologies are being used to improve search outcomes, enable effective records management, identify and secure sensitive information, improve governance and compliance, add structure to Enterprise 2.0, facilitate eDiscovery, and drive intelligent migration. For more information about Concept Searching's solutions and technologies please visit http://www.conceptsearching.com.
All product and company names herein may be trademarks of their respective owners.