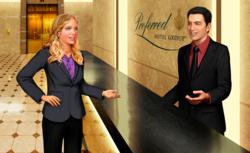 "Logi-Serve is a most innovative and advanced service excellence and customer experience assessment and development tool that fits a hospitality niche by providing a scientifically advanced, easy to use system,"
— JoAnne Kruse, Conference Chair
Farmington Hills, MI (PRWEB) October 15, 2012
Logi-Serve, a new leader in assessment and development tools for global enterprises of all sizes, has been selected to be part of a best-in-class talent and workforce management technology forum at the 7th Annual National HR in Hospitality Conference scheduled for March 11th-13th, 2013. During the HR in Hospitality Conference, attendees will attend interactive educational forums offering best-in-class guidance directed to help hospitality establishments such as restaurants, casinos, hotels, spas, franchises, and resorts engage employees in an effort to ensure their human resource programs are in compliant and provide the best possible opportunities for operational success.
The HR in Hospitality Conference was developed and is sponsored by the Cornell University ILR School and the School of Hotel Administration, in cooperation with and support from Cornell's Center for Hospitality Research. The conference is attended by senior HR leaders and managers of hotels, restaurants and casinos, corporate managers and staff who deal with HR-related functions, VPs of labor relations at corporate or regional levels, hospitality law attorneys, and consultants and investors for the hospitality industry.
"We know that talent management and workforce software technologies are providing wonderful people solutions to organizations of all sizes. In today's competitive environment every organization can benefit from learning how to deploy technologies to reduce turnover, increase engagement, improve quality of hire and develop people to their full potential," comments Peter Wilde, a Managing Director of the Townsend Hotel, member of Preferred Hotel Group since 1999 and a member of Logi-Serve assessment Advisory Board.
"Logi-Serve is a most innovative and advanced service excellence and customer experience assessment and development tool that fits a hospitality niche by providing a scientifically advanced, easy to use system," comments JoAnne Kruse, Conference Chair.
"Reducing turnover, improving customer experience and service excellence are fundamental to achieving financial success in the hospitality industry. We know the best hospitality businesses provide outstanding guest interactions that retain customers and build loyalty," said Eric Krohner, President and CEO of Logi-Serve. "We are pleased to be part of this important educational forum where different technology solutions will be presented to industry leadership so companies can improve the way they hire, manage and develop talent to achieve better business results."
Logi-Serve will also be part of the vendor gallery where it will showcase its interactive and leading edge sales and service excellence screening and development tool which strengthen the ability to select and develop employees based upon a scientifically validated assessment.
About Logi-Serve
Logi-Serve is an award winning assessment and development technology recognized nationally as a Top 10 "Awesome New Technology" by the 2011 National HR Technology Conference leadership and as recipient of the 2012 Publisher's Choice Product of the Year Award by Customer Care News magazine. Logi-Serve was recently selected as the exclusive North American assessment alliance partner for Preferred Hotel Group®. The Logi-Serve assessment system helps prevent costly hiring mistakes, improves employee productivity, reduces turnover and enhances customer satisfaction and business capabilities like never before.
For more information view the Logi-Serve website at http://www.logi-serve.com, email sales(at)logi-serve(dot)com or call 1 (800) 698-0403.