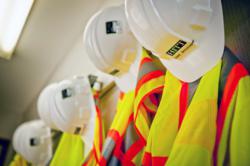 HITT's commitment to our customers starts and ends with safety.
Falls Church, VA (PRWEB) October 12, 2012
HITT Contracting Inc. is proud to announce that it has been recognized for 10 safety awards in 2012. HITT is honored to accept these awards in recognition of its ongoing commitment to maintaining a safe work environment for all employees.

Associated Builders and Contractors National – Safety Award
ABC Metro Washington – Safety Award
ABC Baltimore – Safety Award
ABC Georgia – Diamond Step Award
ABC Georgia – Award of Safety Excellence
American Subcontractor Association – Safety Award
Chesapeake Regional Safety Council
Safety Gold Award of Excellence
ASSE NOVA Chapter – Corporate Safety Award
AGC Metro Washington – Safety Award
HITT's commitment to our customers starts and ends with safety. We firmly believe that safety is an integral part of the construction process, on an equal basis with production and quality. Our Safety Department has developed and implemented policies and procedures designed to increase the safety awareness of everyone associated with our construction projects.
Ongoing safety training provides understanding, accountability, and a tool to protect each and every worker. Training is an integral part across all facets of our operation, providing our employees with the skills and safety measures required in today's most complex building environments. All field employees have access to on-site training programs and are required to attend weekly safety meetings. Field supervisors are required to attend OSHA safety classes and First Aid/CPR training. Annual refresher courses are also provided. In addition, HITT requires that all field employees participate in an initial Safety Training program.
Recognizing that our safety record is the measurement tool by which many of our clients begin their qualification process, maintaining a successful safety record enables us to protect our most valuable assets – our employees.
A contractor's Experience Modification Rate (EMR) is the multiplication factor on which worker's compensation insurance premiums are based. A rating under 1.00 (industry average) is superb, as it means that fewer or less severe accidents occurred than were expected in a given year, resulting in lower insurance costs. HITT's EMR has not been higher than 0.76 since 1989. HITT"s current EMR is 0.64 – among the lowest in the industry.
About HITT Contracting Inc.: Founded in 1937, HITT Contracting has grown to be ranked among today's 100 Largest General Contractors nationwide, with offices in Washington, DC, Atlanta, Baltimore, Charleston, Denver, Richmond, and South Florida. Our client-focused teams fulfill any program need from a doorknob change to base building shells and complete tenant/owner fit-outs. Company-wide we maintain more than 700 employees, including a skilled in-house field force available 24/7 to support our clients long after initial occupancy. The HITT Way for quality and excellence defines the core of our mission and how we are structured. Teams are organized into expert market sectors, specializing in corporate base building and interiors, government, healthcare, hospitality, institutional, law firms, major projects, paint and service, and technology. Complementing these market sector teams are the preconstruction, sustainable construction, and subcontractor relations divisions. For more information, please visit http://www.hitt-gc.com/. Follow us @twHITTr.