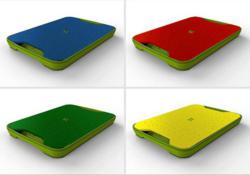 "Without backers, we wouldn't be able to successfully bring the FLOW perforated cutting board to the market and into kitchens around the world."
New York, NY (PRWEB) October 10, 2012
The world's first perforated cutting board only has four days left in its funding campaign on the popular crowdfunding site, Kickstarter. With four days to go, Creators Ola Ahlmen and Peter Hauser expect that FLOW will go out with a bang.
FLOW by Simpleware completely revolutionizes your everyday cutting board by allowing the juices from slicing meats, fruits and vegetables to drip through the surface of the board into an attached tray. Not only does FLOW eliminate countertop mess, it also allows you to save the juices and use them to create dressings or sauces which can accompany your meal.
"We're so thankful for how supportive the Kickstarter community has been," says Ahlmen. "Without backers, we wouldn't be able to successfully bring the FLOW perforated cutting board to the market and into kitchens around the world."
Simpleware has a wide range of rewards offered to those who back FLOW on Kickstarter.
Rewards range from a single FLOW perforated cutting board to multiple board packs. From different color FLOWs to exclusive Australian trips.
The different colored boards were added as a reward with the intention of eliminating any risks of cross-contamination, the most common food-related illness. The Family Pack reward level includes four different color FLOW boards to use with different types of food and one catch tray. The red board is for meats, yellow for poultry, green for vegetables/fruit/bread and blue for seafood.
What else is so great about the world's first perforated cutting board? The FLOW by Simpleware is made from high-quality FDA approved cutting board materials which also prevent the growth of bacteria. FLOW is also BPA free, dishwasher safe and can easily be stored after each use.
Visit FLOW's Kickstarter page, http://bit.ly/FlowKS, to pre-order your FLOW today. The campaign ends on Sunday, October 14 at 11:00pm EST.
About Simpleware
Simpleware is a new brand that offers unique kitchen products. Founders Peter Hauser and Ola Ahlmen first created Simpleware with their introduction of FLOW. Peter's design and development background combined with Ola's experience bringing products to market has built the perfect relationship for success. Visit http://www.simplehouseware.com to find out more information on Simpleware. Like them on Facebook at http://www.facebook.com/simplehouseware and Follow them on Twitter @Simpleware.