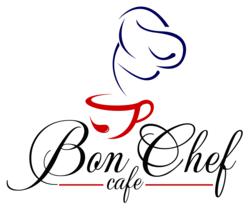 Love what you eat…Bon Appétit!
(PRWEB) October 11, 2012
Unlike any other neighborhood restaurant, Bon Chef Cafe is about to define "a new normal for dining out," by having a few key differentiators that set it apart:

A family-friendly neighborhood feel, with a cosmopolitan vibe and a menu that features a scrumptious fusion of gourmet American and Mediterranean, always at a budget-friendly price point
Breakfast – Lunch – Dinner with breakfast available all day
Cappuccino, Latte, Café au lait, and other specialty coffees
Kid-friendly with a play corner to keep little hands occupied when they're done eating
A Wood Fire Grill
A selection of fine wines and beers
Daily Happy Hour Monday thru Saturday from 4 – 7 pm, Sunday 7 – 9 pm and Late Night Happy Hours from 9 – 10 pm on Friday and Saturday
The story of how Bon Chef Cafe was conceived and created is inspirational and heart-warming: Four families coming together with the shared desire and vision to not only create the ideal family-friendly restaurant that their own families and friends would enjoy, but also with a shared dream of self-sufficient entrepreneurship, in a tough economy. These goals are best described by the words of Owner/Chef, Ash Haddad: "We are rising to the challenge of starting a business in the face of a difficult economy. As friends and family, most of whom have been aggressively laid-off, downsized or right-sized, we are not gathering any government assistance, but creating jobs for ourselves and others. Our goal is not to get rich, but to earn an honest living by establishing a place where our friends, neighbors and colleagues here in Henderson and the surrounding area, can come in and find a comfortable, easy-spirited place to relax and enjoy a great experience for a fair price."
Though guests can enjoy a breakfast of Three Eggs with toast for $5, or lunch on a Wood-Fired Chicken Kabob Wrap for $5.50, the Bon Chef Cafe also proudly offers select Signature Dishes, including:

Steak Pyramid - a mouthwatering marinated beefsteak charbroiled on natural wood fire grill, stacked with grilled tomato and onion. $13.99
Seafood Paella - shrimp, chicken, clams, mussels, fish, scallops, Spanish chorizo and tomato bomba rice. $16.99
Crepe de Crevettes - sautéed shrimp & mushrooms in lemon butter cream sauce wrapped in thin crepes. $8.99
Plus the amazing Tête-à-Tête dessert, especially made for sharing, stacks up a mountain of assorted gelato with crisp wafers and fresh fruit. This one is set to become a local favorite.
And though Bon Chef Cafe is humble in its roots and spirit, its wine selection stands proud. Made by professional Sommeliers, it boasts a delicate balance between variety, quality and value, bringing wonderful picks by the glass and by the bottle. A sample of these includes:

Pinot Grigio, Cantina Produttori Cormonsa, from Veneto, Italy at $5 per glass
Pinot Noir, Vanduzer from Willamette Valley, Oregon at $8 per glass,
Cabernet Sauvignon, Kenwood Jack London from Sonoma,California at $30 per bottle
Happy Hours feature a delectable Tapas menu with items like the Bon Chef Beef Shawarma Slider for $3.50 and Campo Steamers: Clams, Mussels & Crawfish for $4.25.
Attire is casual, and walk-ins are welcome. Bon Chef Cafe is also able to accommodate larger groups, take-out and catering needs, with selections for the most discerning adult and kid palettes.
The partners of Bon Chef Cafe hope to invoke a smile on every face that comes through their door, by offering warmth, love and sincere hospitality with wonderful home-made food at a reasonable price.
Mark your calendars! The Grand Opening celebration will take place on Saturday, October 13, 2012 from 6:00 to 9:00 pm. The first ten guests to arrive will receive free coffee for the rest of the year!
Love what you eat…Bon Appétit!!