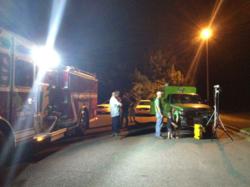 I'm tickled to death with the FireTech lighting solutions from HiViz LEDs. Our customer feedback has been really positive and the lifetime warranty makes it a very good offering that we are proud to provide and support. (Tommy Daughtridge, VP, FCI)
Rocky Mount, NC (PRWEB) October 11, 2012
HiViz LEDs has expanded its mid-atlantic presence with the addition of Fire Connections, Inc. (FCI), based in Rocky Mount, NC. FCI is a respected and innovative distributor of E-One fire apparatus and other turn out gear and loose equipment from companies such as Innotex, Fire Service Plus, and Leader North America. FCI recently featured the HiViz LEDs FireTech Brow Light and Scene Light solutions at the South Atlantic Fire Rescue Expo in Raleigh on the Biscoe Fire Department E-One Truck at the FCI SAFRE booth.
"We had very high interest at the show and afterwards in the brow light, the scene lights, as well as the other lighting solutions from HiViz LEDs. " said Travis Mayo, co-owner and President of FCI. "The lights are bright, look great, are competitively priced, and they carry a lifetime warranty. It makes for an excellent alternative for our customers to consider."
HiViz LEDs offers lighting solutions for several different markets, fire and rescue, municipal and utilities, as well as, athletic fields, parking lot, and stadium solutions. As a value added distributor for several LED companies, HiViz LEDs enhances the standard product offerings with features required by the fire/rescue market. "As a firefighter myself, I know the value of quality equipment on the fire ground and the benefits of a quality supplier of that equipment, such as Fire Connections, Inc. (FCI) "says Sam Massa, owner of HiViz LEDs. "Off-the-shelf products for general purpose do not meet the needs and demands of the fire/rescue market. FireTech Solutions from HiViz LEDs do meet those needs and demands"
"With HiViz LEDs FireTech lighting solutions, I believe we are working with a LED lighting industry leader whose primary focus is lighting solutions and who is knowledgeable of the fire/rescue market. They have to provide a quality product and support or they don't put food on their table." says Trey Daughtridge, sales rep for FCI in the greater Raleigh area. "Unlike other companies that carry lights as only one of their offerings and where you may have to search through their organization to find the right person for answer, with HiViz LEDs we have lighting expertise at our fingertips. It is one call to get an answer for our customers."
"We are committed to the fire apparatus distributors as our way to go to market because we know they have formed trusted relationships with the fire departments." Massa adds, "We not only want to provide expertise to our resellers, we also train them so that they become the front line of experts for their customers. FCI has proven they can be the front line expert."
FCI is a reseller of products ranging from apparatus to turn out gear to loose tools, equipment, and foam. FCI has been a leader in taking on, early in their entry to the market, such innovative companies as Fire Service Plus, which is a provider of environmentally safe fire suppressant foam and were the first to combine Class A and B foams into one effective trademarked green agent technology™ which delivers superior results. FCI has also brought to the US market and is the top reseller in the US for Leader North America, a provider of innovative positive pressure ventilation fan and blower technology.
"We want to offer our customers alternatives and quality solutions. " says Tommy Daughtridge, co-owner and VP of FCI Service and Support. "I'm tickled to death with the FireTech lighting solutions from HiViz LEDs. Our customer feedback has been really positive and the lifetime warranty makes it a very good offering that we are proud to provide and support."
HiViz LEDs lighting solutions for the fire/rescue market include FireTech low profile Brow Light, FireTech scene lights, apparatus work lights, self contained Emergency Response Kits, compartment lights, and handheld lighting solutions.
HiViz LEDs FireTech solutions include several patented and trademarked technologies. Sam Massa explains, "Three things that make HiViz LED FireTech lighting solutions superior to our competition are, first, the 'pulse width modulation technology' which maximizes the light output to nearly 90% of the LED lumens rating. Our competition can typically only drive their LEDs to between 60% and 70% of their stated lumens rating. That's why our lights are so bright." Massa continues, "Second are our 'split optics technology'. For example in the low profile brow light, we give the Fire Department three lights in one brow light by providing spot, scene and flood patterns each controlled on a separate circuit." Massa makes his last point, "Finally, the HiViz unique offering of FlexPower™ which allows our LED scene lights to be operated on AC or DC on the trucks and then be removed from the trucks and placed near any hard-to-access scene using only battery power. This provides flexibility for the first responders and particularly for a vehicle accident or fire investigation scene a quiet emergency scene without the need for generators on fire trucks to operate lights. This often frees up the fire apparatus to be available for other calls fighting fire rather than shining lights."
LifeTime Warranty: FireTech lighting solutions come with the only fire/rescue industry's only lifetime warranty for a lighting solution. James Christopher, responsible for FireTech Reseller Development, tells us, "This is a straight forward repair or replacement warranty for the life time that a reseller's customer owns the light. If the light stops working virtually for any reason other than crushing it, call HiViz LEDs and we'll get it taken care of right away. We mean truly the life time that a customer owns that light."
HiViz LEDs is located in Lillington, NC and is owned and operated by firefighter, Sam Massa, and his staff. HiViz LEDs offers a complete range of lighting solutions proven on the fire ground referred to as the FireTech lighting solutions. These include low profile Brow Lights, scene lights, apparatus work lights, self contained emergency response kits, compartment lights and handheld lighting solutions. All lights except the compartment lights carry a lifetime warranty. HiViz LEDs also carries a full range of flashing emergency response lights for fire, rescue, ambulance, police, and first responders. For more information about how the FireTech lighting solutions can be implemented on your fleet, please contact HiViz LEDs by emailing sales@hivizleds.com or calling the office at 703-662-3458.