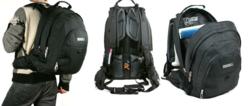 audio pocket cord port and the safety "predator" whistle.
Kent (PRWEB UK) 11 October 2012
The College 40 x-Tend is now on Luggage Superstore's online store. For consumers looking for bags to carry laptops securely, there is this action backpack to harness a laptop securely. The bag is designed to carry laptops up to 17"with its padded laptop sleeve. There are several more creative sides to the backpack. It is A4 compatible giving the space for business papers or folders to fit quite comfortably. The aluminium internal frame presents security for all internal contents but it is accompanied by an ergonomic harness system that is fully adjustable and is designed with lumbar support. The bag also comes equipped with a padded utility waist belt. Two great ideas that were put into this bag are the audio pocket cord port and the safety "predator" whistle.
Paul Steadman, Managing Director of Luggage Superstore says: - "The bag is designed to look good as a casual business bag or ready to go on an outdoor adventure. The large capacity gives lots of room for packing all the essentials."
The adaptability of the bag makes it great to be used on almost any trip and the dimensions allow it to be accepted as carry-on luggage on most airlines.The College 40 X-Tend is the laptop backpack that deceptively looks like a normal backpack but comes equipped with all the protection and extra facilities needed to make this bag a "must have."
Luggage Superstore established site is in West Kingsdown, Kent. Their aim is providing competitive prices of the highest quality luggage and top calibre Customer Service for online luggage shopping.
Trina Chee-a-kwai
Luggage Superstore
01474 854666
Email information