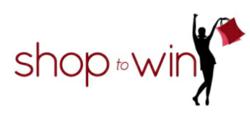 Waltham, MA (PRWEB) October 12, 2012
Shop to Win climbed past the 4,000 merchant mark recently as more and more merchants continue to see the benefits of working with their successful sweepstakes loyalty program. Shop to Win currently works with all kinds of online merchants including retailers like Walmart, Home Depot, Apple and thousands of others.
Shop To Win members earn entries every time they shop at one of their participating online merchants. Members can also earn free entries right on the Shop To Win website. Shop To Win awards a daily $500 prize and an annual $100,000 prize. It is completely free to join the program.
The program has been in place since 2010 and has created a real win-win proposition between merchants and customers. Members of Shop to Win's sweepstakes loyalty program earn entries for free when they choose to make a purchase at one of the 4,000+ participating merchants. Participating merchants see a much greater conversion rate and repeat purchase rate among Shop to Win members:

Conversion Rates of Shop To Win consumers was 52% higher than that of non-Shop To Win consumers
Repeat Purchase Rates of Shop To Win consumers was 24% higher than that of non-Shop To Win consumers
Time Spent on Partner Sites for Shop To Win consumers was 182% more than time spent on those same sites by non-Shop To Win consumers
"We are extremely enthusiastic that our program works well for our merchant partners and that we continue to see growth," said Jim Miller, Shop to Win's CEO. "We look forward to bringing on more merchants and continuing to find ways to provide value for all of our participating merchants."
For more information, visit http://www.shoptowin.com